Athens : Spectacular network developments on the way for 2023, with 13 New Destinations and 3 New Airlines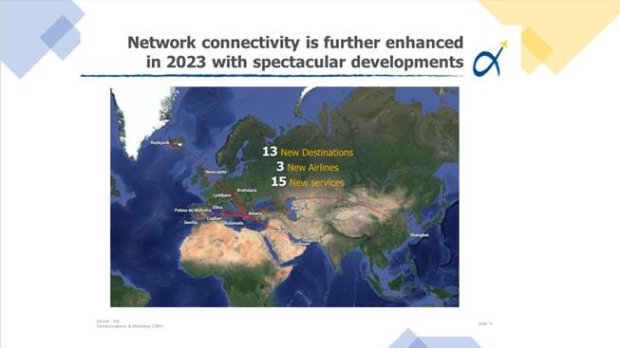 Following the impressive network developments during the COVID years, Athens connectivity is further enhanced
Resilience of the Athens market and the attractiveness of the city and the country overall, resulted in not only record recovery in passenger traffic, but also with impressive additions to the network during the challenging COVID years and now in the post pandemic era.
In the year 2020 that marked the biggest shock in the aviation industry, Athens welcomed the addition of Dortmund by WizzAir and Montpellier by Transavia France, while LOT Polish Airlines returned to the Athens market.
In the 2nd year of the pandemic, 2021, Athens welcomed the significant expansion of the US market with the addition of 2 new destinations, Atlanta by Delta and Washington by United, also American entered the New York JFK market. In addition, Athens was connected to Bacau with Blue Air and 2 New airlines entered our market, TUS Airways and WizzAir Abu Dhabi.
2022 characterized by strong return in Network Developments, with the addition of 7 New Destinations, while welcoming 5 New Airlines, offering services and operating to Athens for the first time. Athens was connected to Bilbao with 2 airlines, Aegean and Volotea, Birmingham with Jet2.com a new airline for the airport, Boston the latest addition in the US network by Delta, Florence with Aegean, Leipzig by Condor, another new airline for Athens, Nis with Air Serbia and Turin with Volotea. In addition to Jet2.com and Condor, Athens welcomed Air Albania operating to Tirana, Bluebird offering scheduled PAX services to Tel-Aviv and Flyr operating to Oslo. All in all, Athens was connected to 50 Countries, 154 Destinations (airports), with a total 296 services on offer, with 66 airlines offering scheduled PAX services, including 25 LLCs offering services to 70 airport destinations.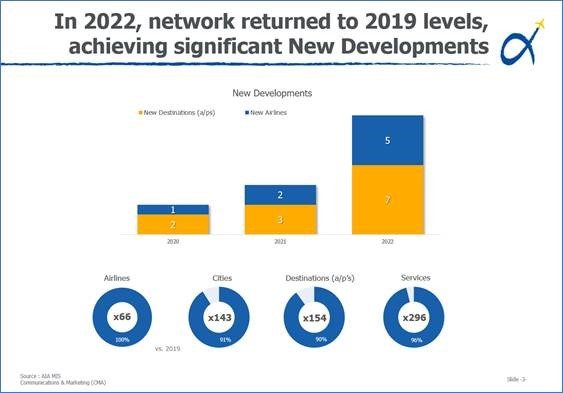 2023 is sounding even more promising, with a spectacular array of New network developments on the way. Based on the information so far, in 2023 Athens will welcome 13 New destinations (unserved from 2019 to 2022) and 3 New Airlines, plus a further 15 New services on existing routes.
Baku a New Destination with Aegean, Aegean will be the sole operator on the route
Birmingham with Aegean, supplementing Jet2.com services
Bratislava a New Destination with Aegean, Aegean will be the sole operator on the route
Bristol with Aegean, supplementing easyJet services on this route
Cagliari a New Destination with Volotea, Volotea will be the sole operator
Chania with Ryanair, supplementing Aegean and Sky Express services
Corfu with Ryanair, supplementing Aegean and Sky Express services
Dammam a New Destination with Aegean, increasing to 3 the available direct connections to Saudi Arabia, Aegean will be the sole operator on the route
Izmir with Sun Express, Sun Express is a New Airline for Athens in 2023, supplementing Aegean services on this route
Kalamata a New Destination with Aegean, Aegean will be the sole operator on this domestic route
Keflavik a New Destination with Play, Play is a New Airline for Athens in 2023, Play will be the sole operator on the route
Kuwait a New Destination with Kuwait Airways, Kuwait Airways is a New Airline for Athens 2023, Aegean will also operate the route
Kuwait a New Destination with Aegean, Kuwait Airways will also operate the route
Lille with Sky Express, supplementing Aegean and Volotea services
Lille with Aegean, resuming this route from 2019, supplementing Sky Express and Volotea services
Lisbon with easyJet, supplementing Aegean services
Ljubljana a New Destination with Aegean, Aegean will be the sole operator on the route
London Stansted with Jet2.com, supplementing Ryanair services
Lyon with Sky Express, supplementing Aegean, Transavia France and Volotea services
Marrakesh with Aegean, resuming this route from 2019, Aegean will be the sole operator on the route
Marseille with Sky Express, supplementing Aegean and Volotea services
Nantes with Sky Express, supplementing Aegean, Transavia France and Volotea services
Newcastle a New Destination with Aegean, Aegean will be the sole operator on the route
Olbia a New Destination with Aegean, introducing the 2nd direct connection to Sardinia, Aegean will be the sole operator on the route
Palma de Mallorca a New Destination with Aegean, increasing to 7 the direct connections to Spain, Aegean will be the sole operator on the route
Paphos with Ryanair, supplementing Aegean services
Pisa with Aegean, resuming this route from 2019, Aegean will be the sole operator on the route
Riga with Aegean, supplementing Air Baltic services
Seville a New Destination with Aegean, increasing to 8 the direct connections to Spain, Aegean will be the sole operator on the route
Shanghai a New Destination with Air China, making Shanghai the 2nd direct connection to China, Air China will be the sole operator on the route
Split with Aegean, resuming this route from 2019, supplementing Croatia Airlines services
Toulouse with Volotea, supplementing Aegean services