Do you know what April is for Athens ?? A historic RECORD April ever!!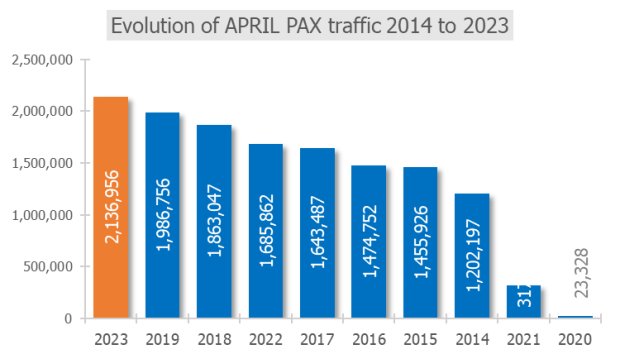 150 thousand additional passengers in April 2023 vs 2019
The booming in demand for travel to Athens continued in April, achieving a historic high at 2.137mio passengers. April 2023 was the best April ever for Athens, smashing the 2mio mark for the very first time.
Pre pandemic, 2019 was Athens record year, however April 2023 resulted in over 150 thousand additional passengers to April 2019, recording a strong 7.6% growth. This achievement was mainly driven by the Domestic sector, achieving 15.3% growth to Apr19 and the International sector with a 4.4% growth.
The outstanding performance in April, drove YtD traffic even higher at +4.0% to 2019, setting the foundations for 2023 to be the NEW record year for Athens International Airport.
In terms of Passenger traffic on Scheduled, non-stop services only, Domestic traffic grew by 12.7% to April 2019 resulting in 72 thousand additional passengers.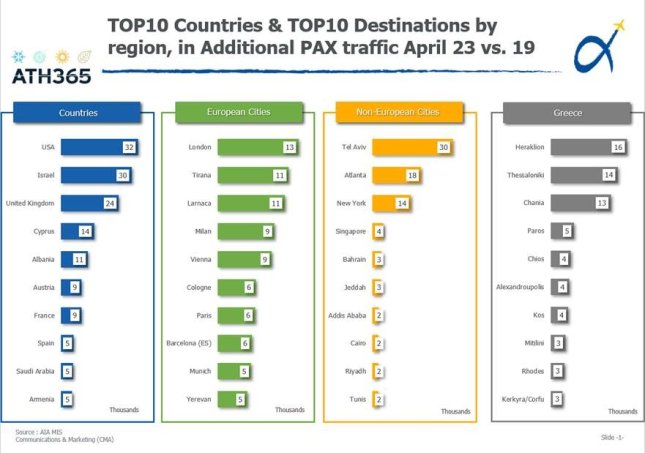 USA holds TOP position in the Countries ranking with 32 thousand additional PAX to April 2019, followed close by Israel with 30 thousand and United Kingdom with 24 thousand. In terms of European cities, London is TOP at the list with 13 thousand additional passengers to April19, followed by Tirana and Larnaca with 11 thousand each.
In the non European city destinations, Tel Aviv is at TOP with 30 thousand additional passengers, followed by Atlanta with 18 thousand and New York with 14 thousand additional passengers respectively. The extension of the Summer season by Delta Airlines in the US market is the main driver for this growth. Equally impressive the strong performance record in Singapore with 4 thousand additional passengers to April 2019, with Scoot achieving record high Load Factors.
In the Domestic market, both airports in Crete (Heraklion and Chania) resulted in 29 thousand additional passengers, maintain the strong momentum recorded throughout 2022. Thessaloniki is 2nd in the ranking with 14 additional passengers and Paros 4th with 5 thousand.
All in all, record growth in Passenger traffic is not generated only from a few markets/destinations but all markets in all regions are contributing positively to this "Athenian Spring".