Gaute Riise takes over as Vice President of Traffic Development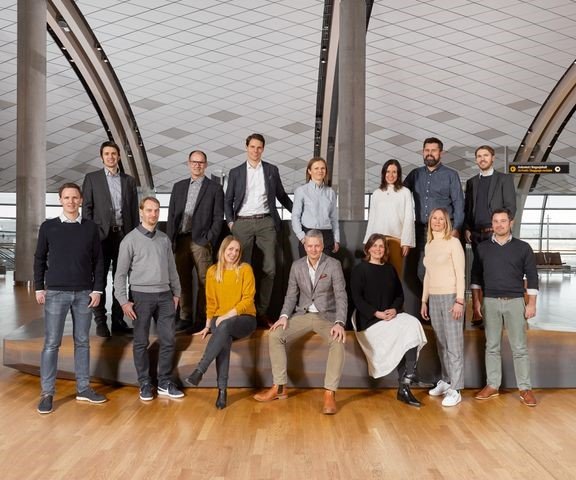 Gaute Riise is the new Vice President of Traffic Development at Avinor, taking over from Jasper Spruit. Riise starts in the position on March 1st.
Riise (Number three from the left on the back row) and his team at Traffic Development at Avinor (Photo: Avinor)
Riise is a qualified commercial pilot and has an MBA from Nord University in Aviation management. The last year he has been heading the Aviation Business Development department in Avinor.
"After a thorough internal recruitment process, we are delighted to present Gaute as the new Vice President of Traffic Development. In recent years, Avinor's traffic developers have acquired an international reputation, and I am sure that this will continue under Riise's leadership," says Executive Vice President, Øyvind Hasaas.
Riise intends to build on the excellent results achieved by Spruit, and looks forward to the challenge.
"I am looking very much forward to working with such a great team of colleagues, in close cooperation with our partners nationally and internationally, especially the airlines. Together we will continue to develop the success of Norwegian aviation," says Riise.
Exciting time for Norwegian and International aviation
He believes that he has been given one of the most exciting jobs in Norway, with plenty of opportunities ahead.
"Norwegian and international aviation are in an exciting period, and anyone working with traffic and route development needs to look at how we can develop sustainable routes at home and abroad. It's therefore so exciting to be part of a group that takes climate change and the environment seriously, while acknowledging the value that route development represents for Norwegian society. Together, we will find the best solutions for the environment and Norwegian society," he states.
Riise starts in his new position on March 1st, during which month he will overlap with Spruit, who will then return to Holland with his family.
"Once again, I want to thank Jasper for all the work he has done, and wish him all the best for the future," concludes Hasaas.