Shipping record for Norwegian seafood from Oslo Airport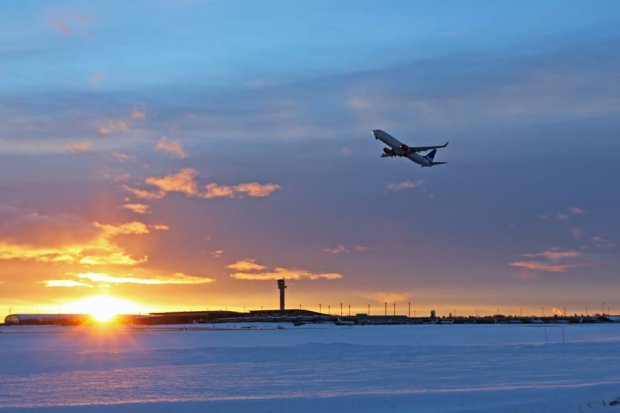 Demand for fresh Norwegian seafood continued in 2020 despite covid-19, and at Avinor Oslo Airport a record was set in the number of tonnes of seafood that was transported by air to world markets. More than 120,000 cubic meters of infection control equipment also entered the country by air during the year.
In a European freight market that is strongly affected by covid-19, and at a time when there has been a great global shortage of air freight capacity, the airlines have chosen to prioritize capacity from Norway and Oslo Airport. This is primarily due to a continued high demand for Norwegian seafood, combined with infection control equipment, e-commerce products, parts for the oil and gas industry and for shipping. In addition, a high rate level has contributed to several airlines using passenger aircraft as dedicated cargo aircraft, says cargo director at Avinor, Martin Langaas.
70 flights a week with Norwegian seafood
In total, more than 110,000 tonnes of seafood were transported from Oslo Airport to large markets throughout the world, with Japan, South Korea and the United States being the largest export markets.
- There has been an increased demand for air freight capacity for Norwegian seafood from Oslo Airport, as a result of reduced capacity from other European airports. This has contributed to us having another good shipping year. The disappearance of intercontinental passenger routes with cargo capacity has been replaced by several dedicated cargo aircraft. At most, we have had over 70 weekly flights that have taken off from Oslo Airport with fresh Norwegian seafood to Asia, says Langaas.
Norway is in a special position
The total cargo volume at the country's main airport has decreased marginally as a result of less mail and reduced domestic traffic, but far less than other airports in the region.
- Norway is in a special position because we have a stable export product in Norwegian seafood that is in high demand. This is attractive for airlines, which then fill their flights back to Asia from Europe by adding a stop at Oslo Airport or other Avinor airports. For example, Qatar Airways has established a freight route with fresh Norwegian seafood, which will be transported from Harstad Evenes Airport to central hubs in Asia, says Langaas
Avinor has improved air freight capacity
We tend to say that "no one has such a bad time as a dead salmon" and for the seafood industry, efficient transport routes to world markets constitute a significant competitive advantage, Langaas explains.
This is confirmed by Trond Davidsen, Deputy CEO, in Seafood Norway.
- For our members, Avinor's efforts to secure air cargo capacity from Norway in a very turbulent time for international aviation have been crucial for them to be able to reach the world markets with fresh seafood. It is gratifying to note that Avinor has managed to maintain, and even improve, the air freight capacity for Norwegian transport of seafood through the covid-19 crisis, he says.
Airborne infection control equipment
Since 18 March 2020, Avinor has contributed to the work of securing supplies of medical infection control equipment and infection control equipment from Asia to Norway.
- In a very demanding and difficult time for the country, it is good to be able to help where you can. That Avinor has been able to help the Health South-East RHF and the Ministry of Health and Care Services to ensure efficient transport of infection control equipment, on which the country's hospitals and municipalities are completely dependent, shows the valuable role aviation plays in Norwegian health preparedness, says Langaas.
He can tell that Avinor has contributed with the transport of 12,000 cubic meters of infection control equipment to Norway. This corresponds to approximately 200 semi-trailers with equipment.
- Norwegian aviation has, despite very demanding times, provided services that have ensured the necessary transport needs. This also emphasizes the importance of air freight as an important part of Norwegian infrastructure, he says.
Major development in the express market
In addition to seafood and infection control equipment, there is one industry in particular that is seeing a solid increase. The express market is the second largest freight segment in volume, but constitutes a significant part of the total Norwegian commodity value of air freight.
This is partly because Norwegians buy significantly more goods online from international suppliers, a trend that has increased through the covid-19 crisis.
- The increase varies between different industries, but it is clear that Norwegians generally shop more internationally online. Throughout the pandemic, DHL Express Norway has maintained deliveries of the ever-increasing volume from e-commerce, but not least also maintained the delivery of important shipments to Norwegian industry and business, hospitals and health trusts and society in general, says CEO of DHL Express, Terje Aarborg.
The total number of cargo tonnes at Oslo Airport in 2020 was 163,000 tonnes, which corresponds to a decrease of 7 percent compared to 2020. This means that Oslo Airport in 2020 took the position as the Nordic region's largest cargo airport (measured in tonnes) and strengthened its role as the largest the cargo airport (number of cargo planes).
Facts - shipping - Oslo airport in 2020:
Largest cargo airlines (in tonnes):
Qatar Doha 42,446
Korean Air & Ethiopian Seoul 15,170
Emirates Dubai 14,350
CAL & ElAl Tel Aviv 8,464
Silkway West Baku 6,060
Turkish Istanbul 5,393
Largest export markets from Norway with Norwegian seafood:
Japan
South Korea
USA