KLM flight lands at Porto Airport as part of sustainability challenge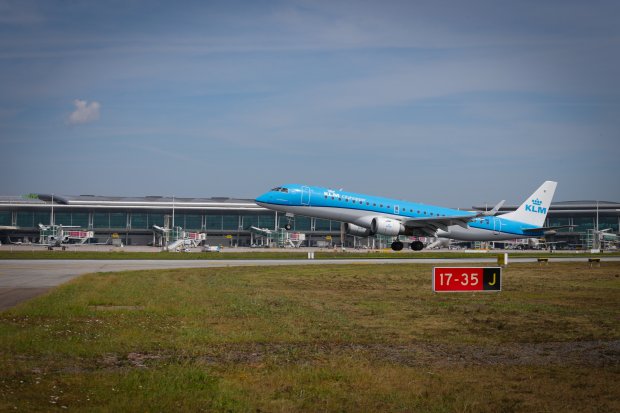 As part of a challenge involving sixteen airlines, a KLM flight powered by 39 per cent sustainable aviation fuel flew from Amsterdam to Porto on Saturday, May 7th.
The choice of Porto airport follows the environmental measures implemented in ANA Aeroportos de Portugal, integrated in the Airpact strategy defined by VINCI Airports and the NetZero commitment until 2030, both of which contribute to positive mobility.
The Sustainable Flight Challenge aims to stage the most sustainable flight possible and raise awareness of sustainability across the aviation sector. This flight to Porto, has undergone the widest possible array of sustainability measures. A total of more than 50, existing and new ones, were taken aboard, involving all KLM divisions as well as partners such as Porto Airport, Amsterdam Airport Schiphol and Air Traffic Control the Netherlands (LVNL). The impact of these measures will be evaluated to see whether they are worth implementing in the short term.
The two most effective ways of reducing CO2 emissions are fleet renewal and the use of sustainable aviation fuel (SAF). That is why the KLM Cityhopper flight to Porto which is operated by one of the most economical aircraft in their fleets, the Embraer 190, was powered by a fuel blend consisting of 39 per cent SAF. In addition, a wide array of new weight-reduction measures were taken on board. Passengers were asked to choose their preferred meal in advance, for example, and AI modelling was used to predict inflight water requirements, ensuring that the precise volume was supplied. Naturally, KLM has informed passengers that their flight has a special purpose, providing them with information on how they can travel more sustainable, for example by supporting the CO2ZERO compensation programme or by contributing to SAF.
The Sustainable Flight Challenge was initiated by a group of enthusiastic KLM employees, who were inspired by the famous London-Melbourne Air Race of 1934, which aimed to expand global access to the world and connect people with one another. All sixteen participating Sky Team airlines will share their best practices and knowledge, and their performance will be evaluated by an external and independent panel of judges that will decide which airline performed best in four categories: impact, innovation, scalability, and cooperation.