Faro closer to Wales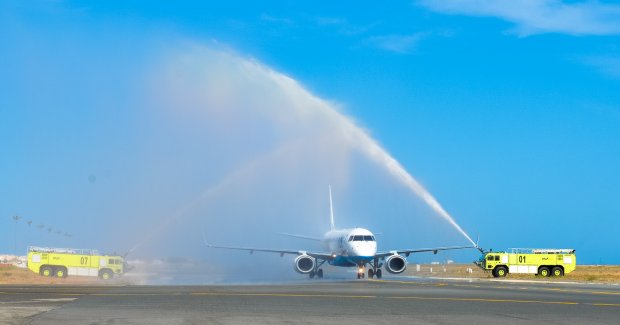 Flybe starts new route from Faro to Cardiff
The new scheduled connection between Cardiff-Faro by British low cost airline Flybe, began yesterday, June 4th, at Faro Airport, linking the Algarve directly to Wales.
The new regular service to Cardiff was celebrated with a flight baptism, showering the aircraft's first flight arriving at Faro Airport. As well as the reception for arriving passengers, departing passengers also celebrated with cake and fresh Algarve orange juice.
In statement, Paul Simmons, Flybe's Chief Commercial Officer said that "We're hugely excited to be launching this new service between Cardiff and Faro today. This is sure to be an attractive route and gives passengers the opportunity to access Wales through its national airport giving them more choice and great value flights when travelling to visit this beautiful country. It also will serve to bring many new travelers from Wales to Faro and help contribute to the local tourism economy. We're looking forward to welcoming all our new passengers on board."
The new direct link to Cardiff, will operate on an Embraer 195 aircraft with 118 seats, representing, for the summer period, an offer of 14,632 seats and about 124 movements.
About ANA Group:
ANA Group is a solid business group responsible for the management of airports in Portugal (Lisbon, Porto, Faro and Beja), the Azores (Ponta Delgada, Horta, Flores and Santa Maria) and the Autonomous Region of Madeira (Madeira and Porto Santo). In September 2013, ANA Group integrated VINCI Airports Group.
About VINCI Airports:
An international player in the airport sector, VINCI Airports is responsible for the development and running of 24 airports, 11 of which are in France, ten in Portugal (including the Lisbon hub which handles 18 million passengers) and three in Cambodia. Served by over 100 airlines, the passenger figures across all VINCI Airports totalled 47 million in 2014, with a turnover in excess of 700 million euros. Thanks to its expertise as a globally integrated company, VINCI Airports, capitalising on its 5,250 employees, develops, finances, builds and operates airports, bringing its investment capacity, international network and expertise into play to optimise the management of existing platforms, expansion projects or the construction of brand new airport infrastructure.
Working together as the Nuevo Pudahuel Consortium, VINCI Airports, Aéroports de Paris and Astaldi, were selected by the Chilean government to take over the running of the Arturo Merino Benitez International Airport in Santiago de Chile, which they will do on the 1st of October 2015 for a period of 20 years. This is the 6th busiest airport in South America, having handled 16.1 million passengers in 2014, almost half of them international passengers. More information is available online at www.vinci-airports.com