Vueling will connect Faro to Barcelona during summer 2015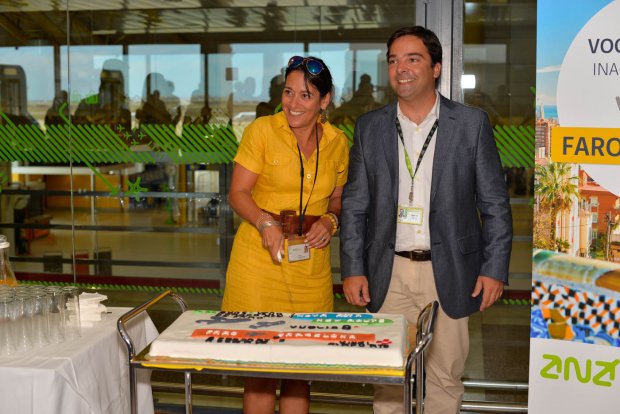 starting the 24th of June
The new scheduled connection between Barcelona El Prat and Faro, was launched and celebrated today (24th June) at Faro Airport to welcome Spanish airline Vueling with a baptism of the arriving flight and the more than a hundred passengers on board as well as departure celebration for the departing passengers on the A320 aircraft to Barcelona.
The new direct service will link the Algarve to the main destination of Catalonia, twice a week, on Tuesdays and Saturdays during the months of July, August and September.
The new connection by Vueling, estimated at a total of 50 movements (departures and arrivals) for the period will be served by an A320 aircraft with 180 seats which totals a supply of 9,000 places (round trip).
For Faro Airport the new direct service to Barcelona El Prat from Faro, supported by ANA- Aeroportos de Portugal and the Algarve Tourist Board is a clear sign of the airline's expansion and consolidated presence in Portugal, demonstrated by the attractiveness of the Algarve to the Spanish market as well as the accessibility of the Algarve to a major international hub.
For further information on bookings, timetables and fares, visit http://www.vueling.com/pt