Algarve property sales boost according to FT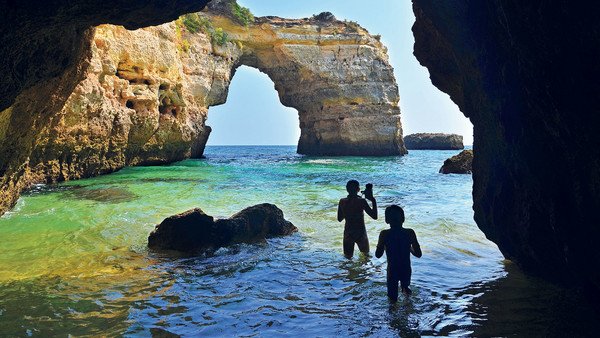 How non-traditional homebuyers are boosting Portugal's Algarve
As reported by Trish Lorenz for the FT
With its miles of beaches, numerous golf courses and mild climate, the Algarve, on the southern coast of Portugal, has been attracting holidaymakers and second-home buyers since the 1970s. But the financial crisis of 2008 hit the area hard. Investment in the country was scaled back and for almost seven years there was little or no development in the region. Those who owned property in the Algarve watched the value of their investments slip.
Then last year the situation in Portugal began to improve and in its June 2015 report, the OECD predicted that: "The [Portuguese] recovery is projected to strengthen on the back of strong external demand, a weaker euro and lower oil prices. Domestic demand has started to rise, and business investment is projected to pick up further in 2016." And in the Algarve, property investors are once again scenting the possibility of profit.
In June, the Oceânico Group announced the first release of homes at its three resorts in the region — the Amendoeira Golf Resort, Belmar Spa & Beach Resort and Baia da Luz Beach Resort. At Belmar, which has an enviable position on a beachfront in the western Algarve town of Lagos, the prices of units range from €116,900 for a studio to €411,900 for a three-bedroom apartment. The company has historically seen strong holiday rental demand at the resort and is predicting rental returns of up to 8.3 per cent on some of its studios.
In Quinta do Lago, the region's premier resort area, Mark Lenherr, of E3 Property, is developing The Keys, a 48-villa, 24-apartment complex. Priced from €4,300 to €6,700 per sq metre, the properties feature rooftop pools, underground garages and range in size from 398 sq metres to 1,010 sq metres. Lenherr, who began building in 2010, will bring the development to market in September and has already presold more than a quarter of the homes.
Rooftop pool of a villa at The Keys in Quinta do Lago, where prices start from €4,300 per sq metre
"We spread the build out over four years because the market clearly wasn't ready two years ago," says Lenherr. "Today, the strong British currency and tax incentives like the golden visa scheme and non-habitual residents status are all helping generate confidence."
Estate agents across the region confirm the trend. Zoie Hawker is managing partner at Fine & Country estate agents in Carvoeiro, in central Algarve. The company is marketing a number of properties including a four-bedroom villa in Praia da Luz with an infinity pool and sea views for €3.7m. "We've sold several properties over £3m in the last two months," she says. "That wasn't happening two years ago, but now confidence is back."
©Pedro Rodrigues
Four-bedroom villa and estate near Silves, on sale with Fine & Country, €2.1m
And that confidence is extending beyond the British market — traditionally the strongest in the region.
Pine Cliffs Resorts is a new development of two- and three-bedroom apartments on the market from €780,000.
"Real estate in Portugal is changing," says Karin van den Hemel, general manager of Pine Cliffs Real Estate. "We've always had English, Irish and German buyers, but now we're seeing new nationalities investing here. We've had our first Chinese buyers, Scandinavians, French and other non-Europeans, including South Africans, too."
Pine Cliffs Resorts, a development of two- and three-bedroom apartments on sale from €780,000
It is a story that is being repeated along the coast. David Westmoreland is managing director of B&P Real Estate in Lagos. The company is marketing a number of properties, including a 3,000 sq metre, five-bedroom villa with a heated pool and ocean views for €3.9m. Westmoreland has also noticed a growing diversity. "This year 30 per cent of our sales are to French buyers, another 15 per cent to Swedish and other Scandinavians," he says.
Hawker agrees that French buyers in particular are a growing market. "What's really made a difference in this region is the French. I would say half our leads today are French; it's the biggest single thing that's changed in the market here," she says.
Many of the new European buyers are attracted to Portugal by its non-habitual tax regime, under which non-habitual residents — who must spend 183 days a year in Portugal or maintain a primary residence in the country — are exempt from income tax on non-Portuguese incomes, including pensions, salaries and capital gains, if these were subject to tax in the country of source.
Diogo Gaspar Ferreira is president of the Association of Portuguese Resorts. He believes the country's tax regimes, in particular the so-called "golden visa" scheme, which grants a five-year residency permit to any non-EU citizen who invests at least €500,000 in property in Portugal, will soon begin to attract eastern European buyers too.
We've always had English, Irish and German buyers, but now we're seeing new nationalities investing here

"When it comes to second homes, almost 95 per cent of people buy on the same continent in which they live. Approximately 15 per cent of people in northern Europe with free wealth of more than €2m have a second home in southern Europe. But if you apply the same criteria to eastern Europe it's less than 0.5 a per cent," says Gaspar Ferreira. "I think in future we'll see Polish buyers here. It's a big market of almost 40m people and they're becoming richer. I think we will see Russian buyers, too. Russia is a market of 140m people and there are many with the potential to buy a second property."
This growing demand, coupled with limited supply, is already having an upward impact on prices in the Algarve. At Quinta do Lago Resort, which is now selling its penultimate release of land, San Lorenzo North, with plots of 2,000 sq metres starting from €2.3m, prices are rising.
©Vasco Celio
Six-bedroom villa at Quinta do Lago Resort, €4.95m
"The top of the market was 2006/07 and this year our sales volumes are back to that level," says Jamie Robinson, director of sales at Quinta do Lago Real Estate. "Prices are [still] around 10 per cent less than at peak but there is very limited supply available at the moment and as demand rises faster than supply, I'd expect to see prices push up [further]."
Yet there are still some concerns over certain aspects of the region's property market. Several resorts in the Algarve remain under bank ownership following bankruptcy during the financial crisis, which can mean an uncertain future for homeowners both in terms of ongoing investment and management. Off resort, residential investment is likely to remain subdued on the back of high levels of unemployment, while public investment is being damped by the need for fiscal consolidation.
Interior of a villa at The Keys complex
Despite these issues, developers believe the Algarve holiday property market, with its limited supply and growing international demand, will experience price growth, even in the short term.
"We don't have an excess of empty stock. In fact the problem now is that we are low on new product," says Gaspar Ferreira. "But I think that's strategically good for the market because over the next two years we'll see values rise."
BUYING GUIDE
● Across the Algarve, average prices start from €2,400 per sq metre for an apartment, rising to €2,873 per sq metre for a detached villa and €4,440-plus per sq metre for a high-end development
● Prices across the region rose 9 per cent on average in the 12 months to June this year, according to real estate consultancy ILM. High-end developments rose 14 per cent
● There is strong demand for holiday rentals. Some resorts offer leaseback deals and guaranteed rental returns of 4 or 5 per cent for investors who spend less than two months a year in the Algarve
● There are no restrictions on foreign property ownership. Transaction costs are about 15 per cent of the sale price
WHAT YOU CAN BUY FOR . . .
€800,000 A semi-detached villa with three bedrooms and a private pool on a golfing resort
€3m A four-bedroom, detached villa with sea views in central Algarve
€5m A five-bedroom, new-build villa in the upmarket Golden Triangle resort area
For more properties, please visit ftpropertylistings.com
Photographs: Juampiter/Getty Images; Pedro Rodrigues; Vasco Celio
Source: The Finantial Times