Official Venue & Hotels
Official Venue
Routes Europe will be held at the Aberdeen Exhibition and Conference Centre (AECC).
---
The official hotel provider mentioned below is the only company which we have approved to provide accommodation for this event and the only company to have access to our specially negotiated hotel rates.

Please be wary of any other accommodation companies making claims to be affiliated to Routes Events or purporting to be our official hotel provider. In case of doubt, please contact a member of the Registration Team on eventregistration@routesonline.com
Aberdeen offers an array of accommodation options so you'll be sure to find somewhere to stay that fits your needs and budget.
You can view a map of all the hotels in Aberdeen including our Official Hotels here. Please book your accommodation for Routes Europe 2015 in Aberdeen through our dedicated booking service.
Routes Europe 2015 Official Hotels are listed below and coach transfer to the conference and social events will be available from these hotels:
Holiday Inn (linked to conference venue, no coach transfer necessary)
Holiday Inn Express (beside conference venue, no coach transfer necessary)
Copthorne- 16 minutes from AECC
Double Tree by Hilton- 9

minutes from AECC

Jury's Inn- 16

minutes from AECC

Park Inn- 17

minutes from AECC

Thistle Airport- 17

minutes from AECC

Marriott Dyce- 14

minutes from AECC
The following hotels are also Official Hotels and coach transfer to the conference and social events will be available from a nearby pick up point within walking distance as detailed:
Holiday Inn Express City Centre - Pick up point: Copthorne
Skene House Rosemount - Pick up point: Copthorne
Aberdeen Douglas Hotel - Pick up point: Jury's Inn
Carmelite - Pick up point: Jury's Inn
Bauhouse - Pick up point: Park Inn
The Brentwood Hotel – Pick up point: Park Inn
Speedbird Inn – Pick up point: Thistle Airport
Courtyard by Marriott - Pick up point: Thistle Airport

Holiday Inn (AECC)

Copthorne Hotel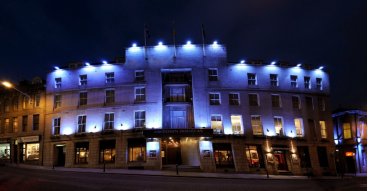 Aberdeen Douglas Hotel