The 26th World Route Development Forum
Milan, Italy • 10 - 12 October 2021 |
Virtual • 18 - 20 October 2021
Platform User Guide
Make the most of your virtual World Routes experience with our step-by-step guide to using the event platform.
Our digital event platform provides you with an effective platform on which to interact with your peers via meetings and messages, bookmark live content and plan a diary that aligns with your business objectives.
Access the event platform Contact the team
When requesting meetings with airline partners, please submit your request to the organisation's lead contact. The designated lead contact will be responsible for coordinating the organisation's diary for the event.
Logging in
As a registered delegate, you will receive a confirmation email* once the event platform is open with a link to the system and your unique Personal Registration Code (PRC).
Activate your account and begin using the World Routes system using the email address you used to register and your PRC.

*Haven't received your confirmation email? Please contact the Event Registration team.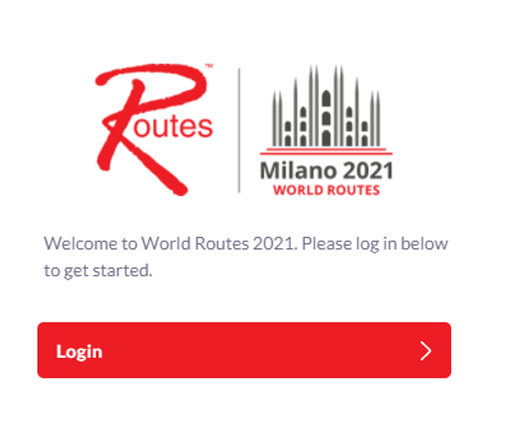 ---
Setting up your profile
Once you have successfully logged in to your account, you'll have the opportunity to update your information.

Help your key targets identify your profile quickly and easily by uploading a profile photo.

Let your key targets know your preferences, priorities and key objectives for attending by adding a summary.

Select Profile in the top right-hand corner to return to the edit profile screen and enhance your profile at any time.
---
Requesting meetings

Find the person you'd like to meet with and click through to their profile.

Send them a direct meeting request for a time that suits your schedule.

Invite additional colleagues or peers to your meeting.
Requesting a meeting with an airline? Please submit the request to the lead delegate for that organisation. The lead contact will be responsible for coordinating all of the meetings that the airline will take during the event.
Incoming meeting requests will appear both as notifications in-platform and direct to your email. You can choose to accept the meeting, reschedule to decline. Once your meetings are confirmed, they will be added to your personalised calendar.
---
Joining meetings
All virtual meetings at World Routes will take place via our bespoke event platform.
You will be able to join the virtual meeting room 5 minutes before the meeting is scheduled to take place, either by following the link in your email or in-platform by clicking 'Open Virtual Meeting Room'.

Once you have started your meeting you will be able to share your screen and run through any presentation slides for the event.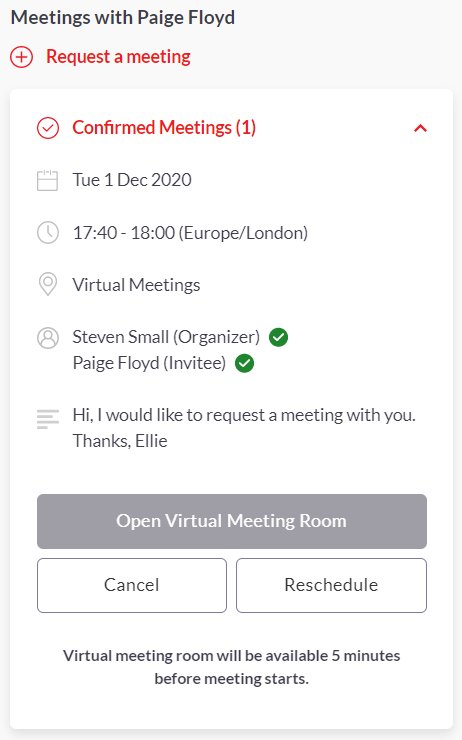 ---
Managing your time
Your personalised calendar allows you to manage your availability and block out time for meetings, conference sessions, networking and other commitments.
Meetings
All meetings you accept and those that are accepted by your target organisations will automatically be added to your schedule.
Event Agenda
You can also block out time in your calendar for airline briefings and conference sessions that best align with your objectives, ensuring you don't miss a thing. To do so, navigate to the Event Agenda section and click on the session you'd like to add, then select the calendar icon in the top right-hand corner.
My Schedule
To watch the sessions you've bookmarked, go to My Schedule on the menu panel on the left-hand side of the screen. At the date and time of the session you are attending, click the Watch Live Stream button to access the session.
On-demand
All timings listed in the event agenda and your schedule will be shown in your local time zone. If you are unable to join a conference session, be sure to still add it to your schedule. After the session or briefing has taken place it will be available to view on-demand, so you can watch it at a convenient time for you.

---
Your connections
Make connections with delegates and speakers that interest you and review your current connections by using the search bar in the top left-hand corner of the page, clicking the pop-out menu on the right-hand side of the page, using the contact lists under More, or by selecting them from the Recommendations for You tab* under the Network menu.
You will be shown your current connection status, their basic information and profile summary, and given the option to skip the contact, show interest or view/schedule a meeting.
*Recommendations have been curated using AI technology to match your profile preferences.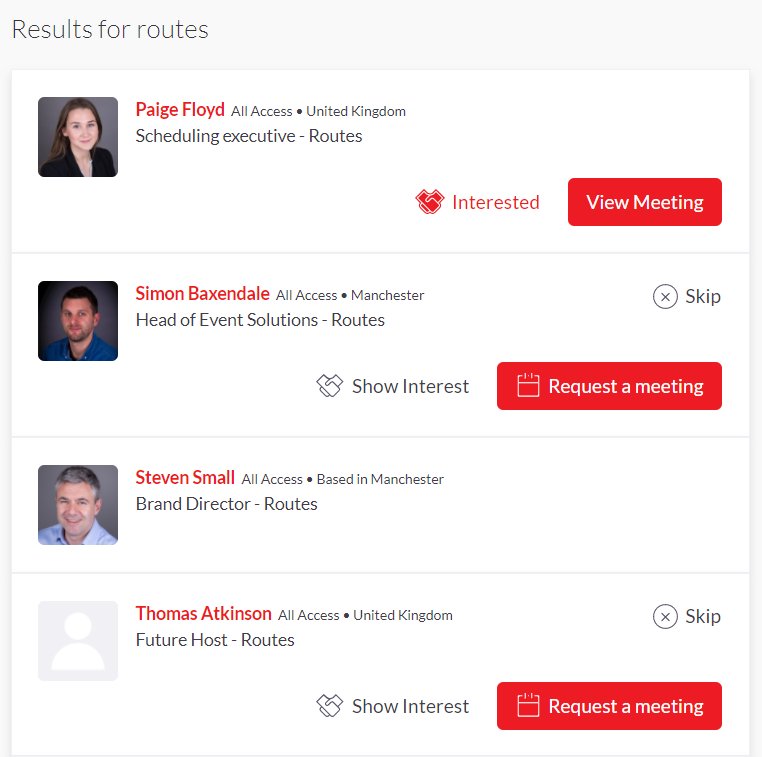 To further evaluate your connections, navigate to the Network menu on the left-hand side of your home screen, which is home to the following sections:
Interested In You
Generates a list of contacts that have shown an interest in your profile and are interested in making a connection. From here, you can view Inbound Leads, which features profiles of people that have shown interest, connected or interacted with you, your team members and/or your company profile.
My Connections
Shows you a quick view of all the contacts you've formed a virtual connection with, and allows you to chat to them, schedule meetings, review previous meetings or remove them as a connection.
My 'Interested' List
Shows you a list of all the contacts that you have shown interest in. When a contact you have shown interest in returns that interest, you will then become contacts and they will be shown under My Connections.
My 'Skip' List
Shows you a list of all the contacts you have previously anonymously skipped. Reconsider your connection by undoing the skip action at any time.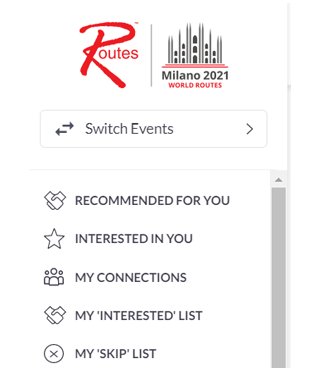 ---
If you require any additional information regarding the platform, please contact the team.