Decision makers from over 100 airlines confirm their attendance at World Routes
VPs and Heads of Network Planning will utilise the event to focus on route development and plan for the next summer season.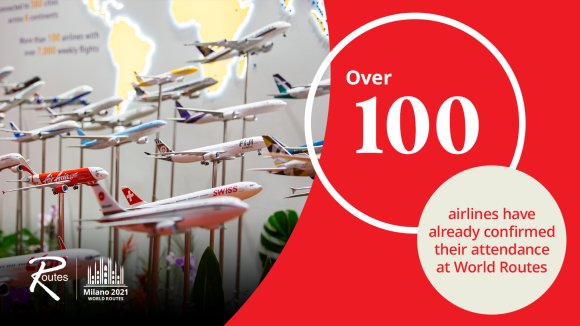 Our role has, and will always be, to bring together the world's airlines, airports, tourism authorities and route development stakeholders to build air services for the economic and social good of every destination.
By consistently uniting decision-makers from the global route development community, World Routes has made a real impact on the world's air services - over 3,500 new air services are connected to meetings at Routes events in the last three years alone.
As a result, decision makers from leading carriers have confirmed that they will be attending the most important event in Routes' 25-year history. Here are just some of the airline delegates that you will be able to meet at the event:
Infrastructure and Planning Manager, Aer Lingus
Commercial Strategy, Network Planning & Scheduling Director, Air Nostrum
General Manager Commercial & Strategy, Air Serbia
Director of Network and Revenue, Azores Airlines
VP of Network, Revenue Management & Alliances, Binter Canarias
Head of Planning, Breeze
Head of Airport Development, easyJet
Senior Manager Route Planning And Analysis, Emirates
Senior Manager Network Planning, Etihad Airways
Senior Manager Commercial Affairs & Airport Relations, Eurowings
General Manager & Chief Operating Officer, Hahn Air Lines
Director of Airport Affairs, KLM Royal Dutch Airlines
Network Planning Manager, Long Haul, LOT Polish Airlines
Chief Commercial Officer, Plus Ultra Líneas Aéreas
Vice President Fleet Planning & Strategy, Qatar Airways
Head of Network Planning and Scheduling, SunExpress
Director, Head of Scheduling & Slot Management, Swiss International Air Lines
Senior Director Network, Schedules and Alliances, TAP Portugal
Senior Director Strategy, Volotea
Airport Development Manager, Wizz Air
Senior Commercial Manager, Wizz Air Abu Dhabi
At Routes, you can trust that we will do everything possible to bring as many of our global partners to Milan and we would encourage you to do all you can to make sure your teams attend in-person. We are aware that government-imposed travel restrictions may still exist in some regional markets in October, so we will also incorporate an online element into World Routes to ensure that every member of our community can engage in the most important event in Routes' history.
Be the first to hear when your target organisations have confirmed their attendance at World Routes 2021 by creating an attendee alert for World Routes. View the attendee list to find out more.
Latest airline registrations