A New Year, a New Record! 2018, the 5th successive year of traffic increase with ATH exceeding the 24 million passengers' mark !!!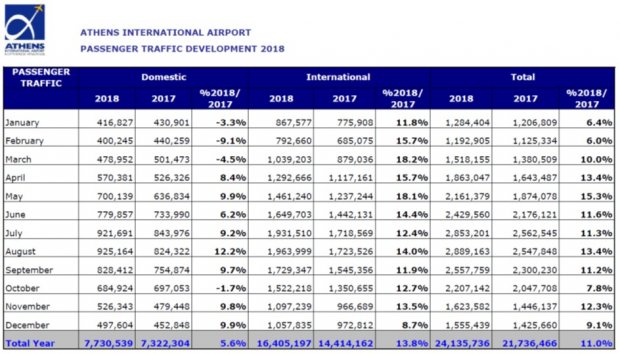 Passengers: 24,14 million (+11%), Flights: 217,094 (+10.8%)
For 2018, Athens International Airport achieved another record year with double digit growth (+11%) delivering 24,14 million passengers, surpassing previous year record by 2.4 million additional passengers. Traffic growth mainly driven by the International market with 2 million additional passengers (+13.8%), combined with the healthy increase of the domestic market +400 thousands additional passengers (+5.6%). All International markets achieved strong growth with Western Europe @ (+11%), Eastern Europe @ (+28%), Middle East @ (+8%), Africa @ (+21%), North America @ (+15%) and Asia @ (+112%).
Overall, Athens International Airport's number of flights during the year 2018 reached 217,094 (+10.8%), an all-time high performance!
Both Domestic and International flights presented robust growth in the year under review, at the level of (+10.6%) and (+10.9%) respectively.
2019 being a promising year ahead with a significant number of substantial developments to / from Athens already announced, we wish you all a Joyful 2019, full of safe take-offs and landings !!!