2019 traffic: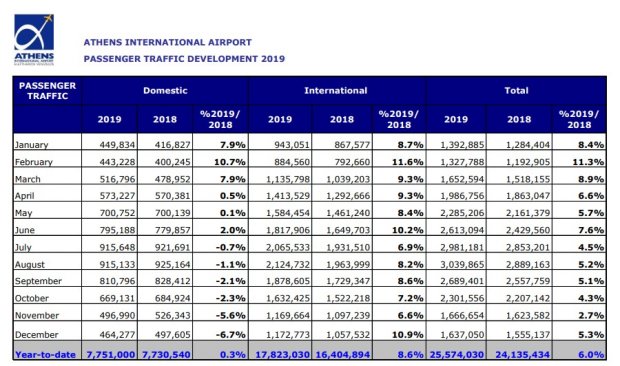 All time best for Athens, with 25.57 million passengers!
During December 2019, the airport's passenger traffic recorded an increase of 5.3% and reached 1.64 million. International passengers demonstrated a strong growth at the level of 10.9%, while domestic air travellers presented a decrease of 6.7%, attributed to the offered domestic services' reduction compared to the previous year's respective winter period.
Overall, in the year 2019,
Athens International Airport recorded an all-time high performance with 25.57 million passengers, surpassing previous year's traffic by 1.4 million (+6%). This outcome was solely driven by the robust growth of the international market (+1.4 million or +8.6%), while the domestic market retained prior-year levels (+0.3%).
Number of flights during the year 2019 reached 225,628 (+3.9%), an all-time high performance. Both domestic and international flights presented healthy growth during the year, at the level of 4.1% and 3.8%, respectively.