Athens : Cyprus Airways is back!!!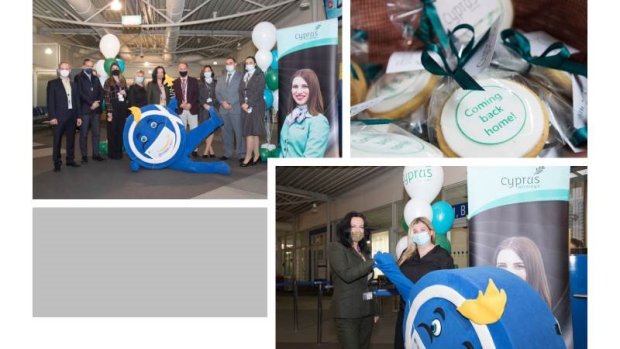 … a long awaited return …
On the 15th of December, Athens International Airport welcomed Cyprus Airways back, after almost 2 years.
Philos the Athenian, our mascot was there to offer branded sweets to the passengers who were "Coming back Home".
Thrilled and excited having the airline back connecting Larnaca to Athens, all the more since Cyprus always holds a special place in our hearts and minds!!!
Cyprus Airways will operate the service to Larnaca 3 times weekly
Day 3, arriving Athens at 16:00, departing Athens at 17:00
Day 5, arriving Athens at 14:50,departing Athens at 15:50
Day 7, arriving Athens at 16:05, departing Athens at 17:05
Operating the A319 on the route, offering 144 one-way seats
In Winter21/22 season, the Cypriot market (Larnaca and Paphos) is served by Olympic Air, SkyExpress, WizzAir, GulfAir, Cyprus Airways and TUS Airways, with the latter offering, for the time being, some additional services during the holiday season only. November 2021, the Cypriot market delivered 69k round-trip passengers, reaching 78% of Nov2019 traffic level.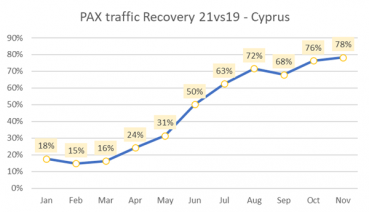 Passenger traffic, round-trip, non-stop scheduled services 2021 vs. 2019
Thank you Cyprus Airways and welcome back !!!