The aviation industry's ambitious goal: Norwegian aviation to be fossil-free by 2050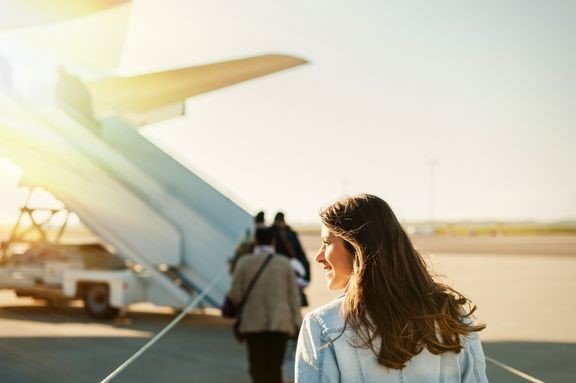 Norwegian aviation to be a world leader in climate solutions. That is the goal, according to a recent report from the Norwegian aviation industry.
For the first time, SAS, Widerøe, Norwegian, Avinor, Norwegian Confederation of Trade Unions (LO) and the Federation of Norwegian Aviation Industries (NHO Luftfart) have worked together to set a common emissions target, and a roadmap to achieve the goal of Norwegian aviation being fossil-free by 2050.
This means that from 2050, on scheduled flights in and from Norway, fossil fuels will not be used. The report was published on October 6th, and is now translated to English.

"With this, we are stating our ambition clearly, and we are all committed to a number of changes over the next few decades. To make it work, we also depend on the continued close cooperation with the authorities," says Dag Falk-Petersen, CEO of Avinor.

He points out that all parts of society, including aviation, must reduce greenhouse gas emissions if irreversible climate change is to be prevented. Norway without air travel is almost unimaginable, and aviation should be part of the solution to achieve the goals set in the Paris Agreement.

"We have not changed our aim of reducing greenhouse gas emissions even though we have been hit hard by the coronavirus pandemic," adds Falk-Petersen.

Aviation will be a driving force, inviting the authorities to collaborate

Norwegian aviation will go to great lengths to achieve the targets that have been set. The industry is investing in new energy-efficient aircraft, and is driving the development and adoption of zero- and low-emissions solutions. Sustainable fuels are also being phased in, and airspace is being made more efficient.

"In order to achieve the industry's ambitious goals, there is not a single solution, rather several measures with effective tools must be put into use by the government. At SAS, we are taking our share of the responsibility, and are working with Airbus, for example, to develop low- and zero-emissions aircraft, and will use biofuel equivalent to the fuel consumption on all domestic flights within Scandinavia by 2030," says Kjetil Håbjørg, Executive Vice President of SAS.

"Politicians must provide predictable framework conditions, but then it is up to the market players to decide which climate-friendly technologies will be developed, produced and utilised. The restructuring must be cost-effective and profitable", says Jacob Schram, CEO of Norwegian.

The report emphasises that significant investment is needed in research, development and functioning markets, so that sustainable fuels, electrified aircraft and the development of hydrogen technologies are attainable.

"Technological developments take time, but Norway now has the opportunity to take a leading role internationally. We propose that regular meetings are established between the authorities and the aviation industry," notes Torbjørn Lothe, director general of the Federation of Norwegian Aviation Industries.

The first commercial electrified aircraft
The industry is hopeful that the public sector will facilitate the introduction of electrified aircraft for commercial aviation.

"We have a clear goal to replace our short-haul fleet with zero-emissions aircraft. The Norwegian short-haul network is well-suited for this," remarks Stein Nilsen, CEO of Widerøe.

A transition to fossil-free aviation will create jobs throughout Norway.

"We are pleased to be involved with the planning of climate-friendly aviation. We have the influence and the industrial knowledge that is needed. There are great opportunities here, not least for the creation of Norwegian jobs," Peggy Hessen Følsvik, Vice President of LO, comments.

Industry praised, and cuts to air passenger duty for zero- and low-emissions aircraft

The Minister of Transport and Communications, Knut Arild Hareide, starts by praising the work that has already been carried out by Avinor, SAS, Widerøe, Norwegian, LO and NHO Luftfart.

"Not only have you done it in a time that has been incredibly demanding for aviation, you are still showing how important the environment and the climate are by prioritising this work," he continues.

Hareide could also bring news to the industry: the government will cut air passenger duty for zero- and low-emissions flights; this is already in next year's state budget.

"We want to do some of the same things we have been successful with in electric car policies, and use some of the same measures for aviation. This will not have so big an effect in 2021, but the indication from the authorities is very clear: We're removing the fees to ensure a future with zero- and low-emissions aircraft, and are clearly stating which direction we want this to go in," adds Hareide.

Read the report