Lauda launches new route from Porto to Vienna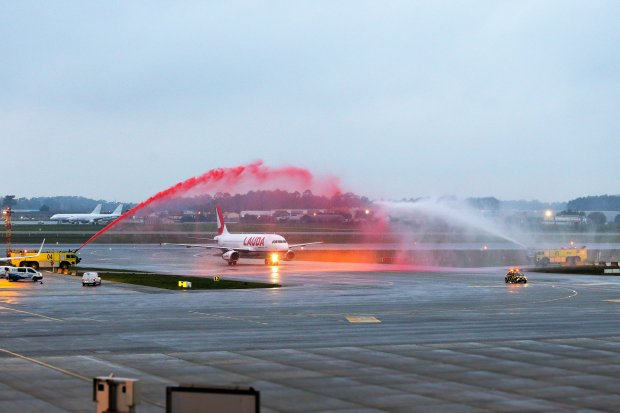 Austria's low-cost airline No.1 starts the new direct connection from Porto to Vienna. Lauda offers two connections from Porto to Austria's capital. Customers and visitors can book their tickets now for an unbeatable price and will fly with the greenest/cleanest airline group in Europe, which has the lowest CO2 emissions. On Thursday the 31st of October, the Lauda Airbus A320 took off for the first time from Porto and flew to the Austrian capital.
Vienna was voted the most livable city on the planet for the tenth time in a row. There is no better time of the year to discover Vienna's world-renowned art, culture and culinary delights than in autumn and winter. Visit the Schönbrunn Palace, St. Stephen's Cathedral or one of the numerous exhibitions by national and international artists.
From the middle of November, until late December Vienna's beautiful squares transform into a magical Christmas wonderland with numerous markets popping up across the city. Alternatively enjoy a quiet relaxing weekend break in one of Vienna's glamorous hotel's and enjoy all the charm of this historical city at a more leisurely pace.
Press contact:
Theresa Weissenbaeck
Tel: 0043 1 393 30 30 4001
Email: presse@laudamotion.com
About Lauda:
Lauda is Austria's no. 1 low-fare airline, founded in 2018 by the Austrian legend, Niki Lauda. The current fleet comprises 22 A320 aircraft, which are located in the 4 bases in Vienna, Dusseldorf, Stuttgart and Palma. More than 6,5 million passengers will fly with Lauda in 2019. The airline flies to over 90 destinations in 30 countries and offers all customers the lowest fares and the best customer service on a fleet of newly acquired A320 aircraft. In 2020 Lauda will grow to operate 36 A320 aircraft carrying over 10m customers at the lowest fares to/from Austria.