Porto Airport and Transavia celebrate 15 Years of the first flight landed in Porto on May 12th, 2007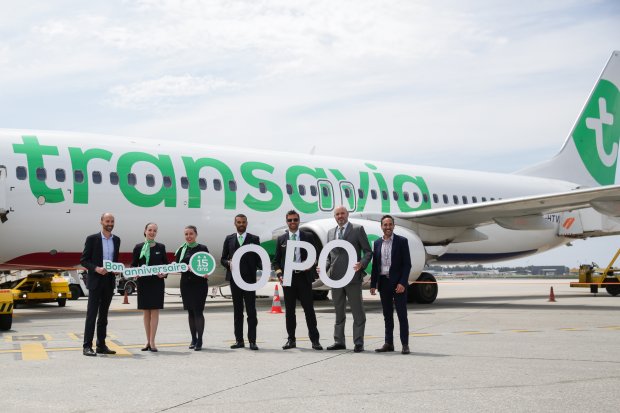 Fifteen years after Transavia France's first flight (ever) landed in Porto on May 12th 2007, Portugal remains a key-market for the company– being the number 1 airline to/from France, with 31% of total capacity between the two markets.
With a track record of 9 million seats sold and 64.000 flights operated between the two countries in the last decade, this success history continues this Summer with 24 routes, 4 of those new, including 3 in the Azores, and a strong increase in frequencies.
Francisco Pita, Chief Commercial Officer at ANA Aeroportos de Portugal, stated: "ANA and VINCI Airports are glad to celebrate this anniversary and the success of Transavia France in Portugal. Celebrating this milestone in Porto makes this moment even more special as this was Transavia France first flight ever on VINCI Airports network. And achievements keep adding up. For the last 15 years, Transavia, a strong partner of VINCI Airports in Europe, grew steadily to become the 4th largest carrier operating in Portugal. This summer season it will operate for the first time in our 5 main airports in Portugal: after Lisbon, Porto, Faro, Madeira, Transavia added Ponta Delgada in the Azores islands. These results express the high level of involvement of ANA|VINCI Airports in route development in a coordinated effort with airlines and partners and the strong commitment ANA|VINCI Airports assumes to ensure the sustainable development of our infrastructures, services and the surrounding communities".
Transavia has recently started 3 of its 4 new Summer 2022 routes in the Portuguese market (March 27th), Porto – Ponta Delgada (domestic), Paris – Ponta Delgada (via Porto) and Porto – Brest, that were complemented on April 24th by the opening of Amsterdam-Schiphol – Ponta Delgada. It will also start a nonstop route Paris – Ponta Delgada in June. And beyond these seasonal openings, the low-cost subsidiary of the Air France-KLM group is proceeding its expansion in the market, also in frequencies – namely, by adding 10 frequencies on the Paris – Faro route, 5 on Paris – Funchal and 8 on Paris – Porto.