Transavia welcomed back to Madeira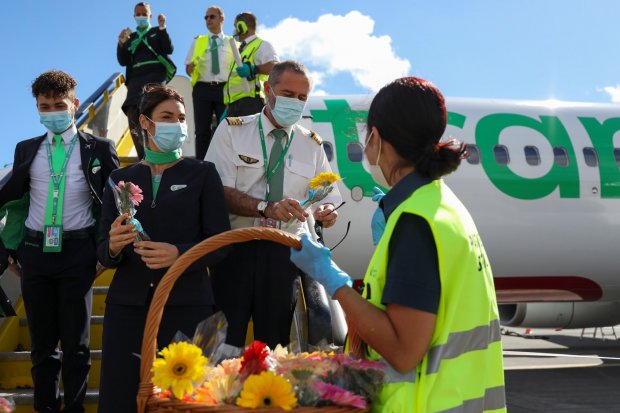 On June 27th Madeira Airports commemorated the resuming of international flights, with a welcoming ceremony for 117 Transavia passengers, coming from Paris. Complying with all sanitary measures, passengers were greeted at arrival, with a welcome banner, flowers and a friendly and customary smile by the airport staff.
The airport will now gradually resumes operations, with several companies strengthening connections to the Region.
Last Friday, June 26th the President of the Regional Government. Mr. Miguel Albuquerque visited Madeira Airport and verified that the airport ensures from July 1st the health control to passengers with the screening and epidemiological surveillance of all passengers disembarked. The control capacity, is estimated at 11 thousand passengers per week.
Miguel Albuquerque visited the passenger terminal, accompanied by Roberto Santa Clara, director of Madeira Airports, and the regional health entities, paying special attention to all the rules of social distancing and sanitary measures implemented in passenger at arrivals and departures passenger flows. More than 65 weekly flights from different national and European origins are planned for Madeira Airport during the month of July.