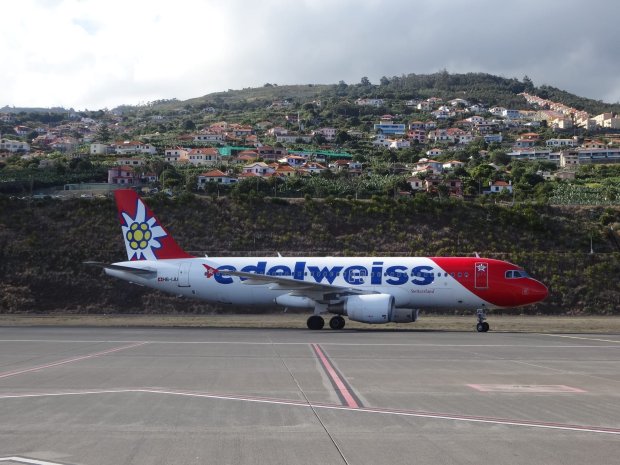 Weekly flight Geneva - Madeira from 4th of September Madeira Airport receives a new route from the airline Swiss International Air Lines.
The weekly flight, Geneva – Madeira, will be carried out on an Airbus A320 with capacity for 180 seats, and will be operated by Edelweiss, a subsidiary of Swiss International Air Lines (SWISS). This operation expands the Region's air connectivity to another new destination, ensuring direct connections to the main airports in Switzerland from Madeira airport during the winter season.
Francisco Pita, Chief Commercial Officer of ANA Aeroportos de Portugal says that "It is with great enthusiasm that we welcome SWISS to Madeira with this new connection to Geneva. This new route confirms the diversification of Madeira's tourist market and proves once again the potential of this Region, with unique characteristics! With this connection, SWISS also reinforces its commitment to Portugal, now having direct connections from Geneva to the 5 main Portuguese airports, a clear commitment to our country. We believe in the success of this connection and in the growth of its offer to the Region."
The Regional Secretary for Tourism and Culture, Eduardo Jesus, confirms that "This operation with SWISS, that starts today is very important. Because of the market it represents, in the center of Europe, where many travelers from near countries also converge, who use Swiss airports to fly everywhere, functioning almost as an international hub. This is very important for Madeira, because, in addition to serving that country, it will also serve its other neighbors, and it reinforces the presence of more airlines in this growing movement that Madeira has witnessed in the tourist recovery that we all work for. Are excellent news for tourism and, therefore, for the Regional economy".
"We are delighted to be able to add Madeira to our network of Portuguese destinations with a weekly direct flight from Geneva. We are confident that the choice of this destination corresponds to the expectations of our passengers. This is certainly due to the fact that Madeira is renowned for its unspoilt nature and breathtaking landscapes. The destination is ideal for both the sports enthusiast and the family looking for authenticity" says Romain Vetter, Head of Western Switzerland at Swiss International Air Lines (SWISS).
ANA Aeroportos de Portugal prepared the airports, reinforcing the health security measures implemented throughout the passenger journey.
Madeira Airport is certified – for the measures implemented under COVID-19 by Turismo de Portugal with the attribution of the Clean&Safe seal and, internationally, by Bureau Veritas. It also received the Certification of Good Practices in Biological Risk Management and was distinguished by Airport Council Internacional (ACI) Europe as the Best Hygiene Measures in its category.
www.ana.pt