The route development forum for Europe
Bergen, Norway
• 18 - 20 May 2022
About the Host
The 15th Routes Europe will be hosted by Avinor.

Avinor's 44 airports is a hyper-connected aviation network linking Norway and the world. Avinor has taken a leading role in reducing aviation emissions and introducing sustainable aviation fuel (SAF). In 2016 Oslo Airport became the first international hub in the world where sustainable aviation fuels were available for all airlines on a commercial basis. Avinor is also a driving force behind the planned introduction of electric aircraft routes in Norway. Our vision is that by 2040 all domestic air traffic in Norway will be electrified.
Avinor provides safe and efficient travel for around 50 million passengers annually, half of whom travel to and from Oslo Airport.
Over 3000 employees are responsible for planning, developing and operating an efficient airport and air navigation service. Avinor is financed via airport charges and commercial sales. The air navigation services are organized as a wholly-owned subsidiary of Avinor. Avinor's headquarters are in Oslo.

Avinor is a wholly-owned state limited company under the Norwegian Ministry of Transport and Communications.
Avinor Bergen Airport
Norway's second-largest airport, Bergen Airport served 6.3 million passengers in 2018, to 48 international and 16 domestic destinations. The new terminal T3 opened in August 2017, for a total capacity of 10 million passengers. Bergen ranks as number 17 in the world on OAG's small airport listing with an on-time performance of 82.2%.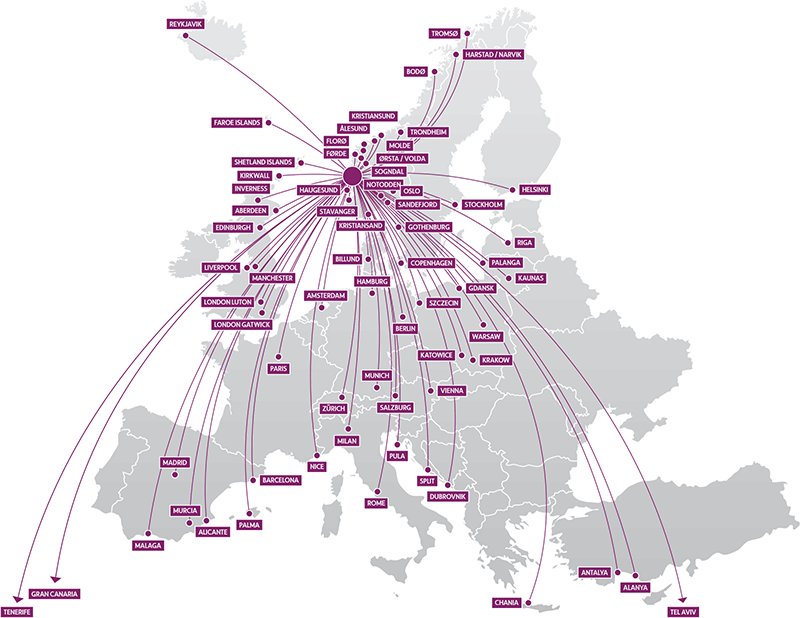 A human-centred philosophy
Avinor's corporate culture is based on personal relations, openness, and humour. By being inclusive and offering a relaxed business environment, we shrink cultural barriers and create a comfort zone that makes us approachable. The same principle applies to our passenger care. Avinor's ambition is to provide a seamless, inspiring travel experience for Norwegian and international travellers. To achieve this, we're constantly evolving longstanding relationships with our partners such as Visit Norway, Visit Oslo and Innovation Norway.
Award-winning service
ACI's Airport Service Quality Awards recognized Avinor Oslo Airport and Bergen Airport Flesland, as Europe's "Best for Customer Service" in 2018. Bergen also won the "Best Progress in Customer Service" award. CAPA's Airport of the Year award was also received by Oslo Airport in 2018.