The route development forum for Europe
Łódź, Poland
• 9 - 11 May 2023
Travelling to Łódź
As Europe's last undiscovered city, Routes Europe will be a catalyst for increasing air connectivity to Łódź.
Regular transfers will be available from Łódź Airport to Official Hotels. We understand that for many delegates it will be more convenient to fly to Warsaw, and as a result, event transfers will also be available to and from both Warsaw Chopin Airport and Warsaw Modlin Airport.

Flying directly into
Łódź
Alicante, Brussels S. Charleroi, Dublin, London Stansted, London Luton and Milan Bergamo offer nonstop flights to Łódź.
Dedicated welcome desks will be at the airport, advising the next transfer time and directing delegates to the pick-up points.
Arrival transfers: 7-9 May to all Official Hotels
Return transfers: 11-12 May

Getting to Warsaw
With nonstop connectivity to over 100 destinations across Europe, Warsaw's airports are easily accessible for the route development community.
There are over 400 weekly frequencies from major European hubs to Warsaw's airports, including Amsterdam, Frankfurt, Munich, Vienna, Paris CDG and London Heathrow.
Carriers flying direct to Warsaw include Air France, Austrian Airlines British Airways, Finnair, KLM, Lufthansa, Ryanair SAS, Swiss, TAP Air Portugal, Turkish Airlines and Wizz Air, as well as LOT Polish Airlines.

Next stop
Łódź

!

Dedicated welcome desks will be at Warsaw Chopin Airport and Warsaw Modlin Airport, advising the next transfer time and directing delegates to the pick-up points.

Airport transfers will run hourly from Warsaw Chopin Airport and Warsaw Modlin Airport to all Official Hotels. These transfers will take approximately two hours and provide delegates with time to relax ahead of a busy few days at Routes Europe.

Hourly arrival transfers: From 12pm on 7 May until 12pm on 9 May to all Official Hotels
Hourly return transfers: From 12pm on 11 May until 12pm on 12 May
Connectivity to Warsaw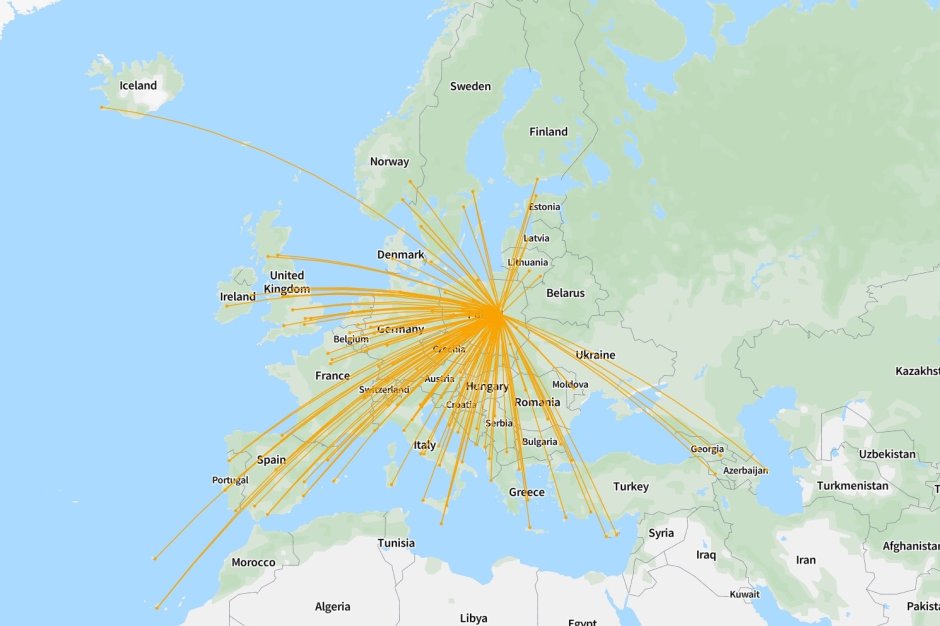 "There is huge potential in Poland. We have about 30 aircraft based there and a 35% market share in the country—and we're going to continue to grow. Our growth plans in Poland are exceptionally strong. The airports are very well managed and most of them have the same ambition as us to grow traffic. I think there is a lot of extra capacity that will enter Poland over the coming years."

Jason McGuinness
Director of Commercial
Ryanair