Routes Europe 2023 took place in Łódź, Poland from 9 – 11 May 2023. Routes Europe 2024 will take place in Aarhus, Denmark from 22 – 24 April 2024. View all our other upcoming route development events.
Routes Europe 2023 will unite decision-makers from airlines, airports, destinations and aviation stakeholders that are invested in the future of European air connectivity.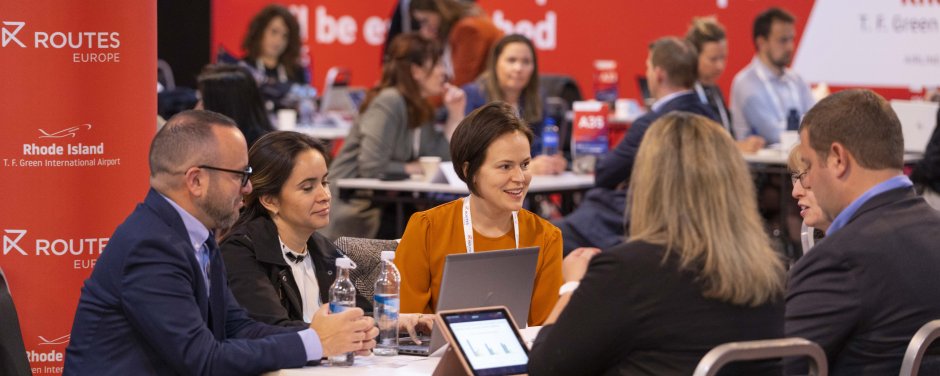 As the region's leading aviation event, uniting senior industry professionals from airlines, airports and destinations, Routes Europe 2023 will provide you with an efficient platform to build high-value relationships with a qualified audience of route development decision-makers from across the region and beyond.

Develop your recovery strategy, gain exclusive insight and discuss new market opportunities with the people who decide where the region's aircraft fly, all under one roof at Routes Europe.
Book your placeDownload event brochure
What can I expect at Routes Europe?
Over three business days, you will have the opportunity to participate in a comprehensive event programme with face-to-face meetings, unmissable networking opportunities, exclusive industry insight and much more.
"We greatly value attending Routes Europe as the premier means for meeting with current and future airport partners in one location. Over the years, ideas initiated at Routes events have led to successful route and market launches for Jet2.com. Successful business relationships in our view are best achieved via face-to-face contact and Routes Europe delivers on this objective."

David Neill
Head of Planning
Jet2.com
Latest airline attendees
Book your placeDownload event brochure
Latest Routes Europe 2023 News
Posted
Denmark's Billund Airport says it has "strong demand" for flights to the south of France, but limited direct routings to the country.