Air tourists create enormous values ​​for AS Norway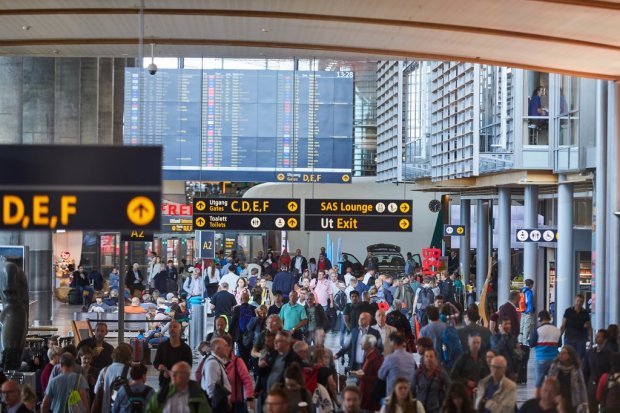 A new survey by Menon states that airline tourists account for a value creation of NOK 18 billion a year.
Norwegians fly on average one international journey and one domestic flight by air per year. In recent years, this figure has been stable. The increase in the number of flights in Norway is mainly due to the fact that more foreigners travel domestically and to and from the country.
In 2017, around 4.5 million foreign air travelers came to Norway. The flight tourists spent a total of
26 million guest nights in Norway.
NOK 18.2 billion in value creation - close to 30,000 jobs
Airline tourists' direct consumption amounted to NOK 24 billion and consists of accommodation, transport, dining and activities. If we sum up value creation and employment in directly affected companies and beyond in their value chain, we get that air travel's consumption contributed approximately NOK 18.2 billion in value creation. The consumption facilitates around 29,100 jobs around the country.

In a survey done by Menon Economics on behalf of Avinor, facts about foreign air travelers to Norway are presented. Other key findings are:
* Growth in foreign air travel has been persistently strong since 2013, with a total increase of 1.5 million tourists during the period.

* 82 percent of foreign air travelers in 2017 were Europeans. The United States is the largest non-European market with just over 300,000 passengers by air in 2017. The Asian market totals 7 percent of foreign air travelers with a total number of 280,000.
* Chinese air travelers have more than fivefold since 2011 and the number of South Korean tourists has increased by nearly 250 percent over the same period.
The locomotive in the north: the exterior is strongest in Northern Norway - increase of 130 per cent to Tromsø
In addition, the tourists here put more money in the area than elsewhere in the country
The number of foreign air travelers to Northern Norway has increased by 130 per cent between 2011 and 2017, and a large proportion of this increase has come during the winter season.
The strong growth in Tromsø is due to the fact that there are both attractive winter experiences and that the city is relatively easily accessible by air. Other regions in Northern Norway can offer the same winter experiences, but these are less accessible.
"Avinor has had an aggressive northern area strategy for many years, and capacity-increasing measures, developments and improvements in a number of places are intended to meet the ever increasing tourist traffic," says CEO Dag Falk-Petersen in Avinor.

In addition, Avinor Oslo Airport, as the most important hub for aviation in Norway, is very well equipped to meet the need in the future.
Asians leave most money
Tromsø stands out with higher consumption among its foreign air travelers than other regions. This is related to Tromsø's high growth in Northern Lights tourism, and that this form of adventure tourism requires the purchase of experience products and hotel rooms, while many tourists spend money on the other urban services offered by restaurants, shops, museums and nightlife.
Visitors from countries in Asia and the United States have consistently higher consumption than visitors from Europe and other countries, also across the visitor region. Chinese and Americans have been growth engines for the Norwegian tourism industry in recent years, much due to increased aviation availability, and their high consumption increases the importance of growth economically.
You can read the entire report here