United Airlines: New route Porto-New York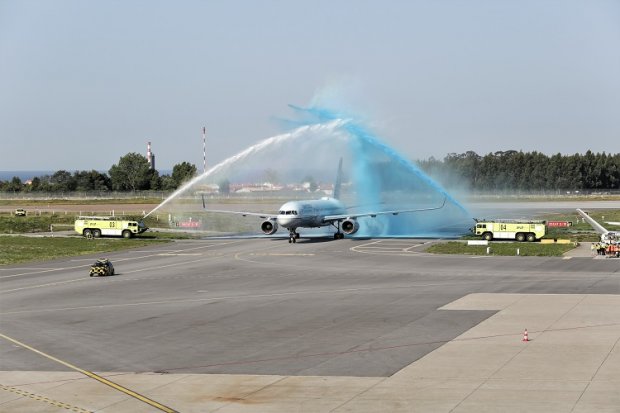 PORTO, May 5, 2018 - United Airlines inaugurated its new nonstop seasonal service between Porto and its New York hub, Newark Liberty International Airport on May 5, 2018. The flights will operate daily until October 4, 2018.
Marking this special occasion, the very first inbound flight from New York/Newark was welcomed to Porto Airport with a water cannon salute whilst customers, guests, United employees and crew joined Matthew Miller, United Vice President International Line Stations, Patrick Quayle, United Vice President International Network, Guido Araújo, United Regional Director Sales Iberia and Central Europe and Carlos Lacerda, Aeroportos de Portugal CEO, for a special gate celebration which included entertainment from saxophonist, Pedro Gomes, before the departure of United flight 145 to New York/Newark.
"We are excited to inaugurate our nonstop seasonal service between Porto and our New York/Newark hub," said José Carlos Ferreira, United Country Sales Manager Portugal. "Our new flight strengthens our international route network and provides our customers from Portugal with greater travel choice, with over 70 nonstop connections from New York/Newark to other destinations across the U.S., Canada, Mexico, the Caribbean and Central America."
Carlos Lacerda, President of the Board at ANA/VINCI Airports Portugal said, "We celebrate this new direct daily flight to the city of Porto operated by one of the world's largest airlines, offering new opportunities not only for leisure traffic, but also for the business sector. The new service means a greater choice of non-stop frequencies to New York, without the need for connecting flights at other airports. The inauguration of this route demonstrates the capacity of the northern region to attract new audiences and the growth potential of Porto Airport which has the capacity and the necessary conditions to boost the development of the region. We are very pleased with this new flight which is the outcome of ANA's successful route development strategy with a focus on diversifying markets in all the network airports by partnering up with airlines as well as economic and tourism agents."
Flight Schedule
United flight UA145 departs Porto daily at 12:35 p.m., arriving at New York/Newark at 3:35 p.m. the same day. The return flight, UA144, departs New York/Newark daily at 9:45 p.m., arriving in Porto at 9:45 a.m. the following day (all times local).
Flight times are 8 hours westbound and 7 hours eastbound. The flight will be operated by the Boeing 757-200.
Onboard Products and Services
The Boeing 757-200 aircraft operating the new Porto-New York/Newark service will feature a total of 169 seats – 16 flat-bed seats in United Polaris business class and 153 in Economy, including 45 Economy Plus seats with added legroom and increased personal space. United Polaris business class, United's new business cabin, features a reimagined, sleep-enhancing experience for intercontinental travellers. The first phase of United Polaris is available onboard featuring an elevated inflight food and beverage experience, tranquil custom bedding from Saks Fifth Avenue and exclusive amenity kits with products from Soho House & Co's Cowshed Spa.
United Economy Plus offers added legroom and increased personal space. Located near the front of the Economy cabin, the seats give the added benefit of allowing a swifter exit from the plane on arrival. Economy Plus seating is available on all trans-Atlantic flights.
United Economy offers complimentary food, soft drinks, juices, beer and wine, tea, coffee and inflight entertainment. On most aircraft, seats feature an adjustable headrest and a personal on-demand entertainment system.
United in Portugal
In addition to the new seasonal service from Porto to New York/Newark, United operates a year-round nonstop service from Lisbon to New York/Newark and a seasonal service April through to October from Lisbon to Washington/Dulles. All flights are conveniently timed to connect at United's U.S hubs with an extensive network of services to destinations throughout the Americas.
Customers can book by visiting united.com or calling 21-415-9102, or their travel agent.
United's New York/Newark Hub
United operates the largest hub in the New York City metropolitan area at Newark Liberty International Airport. Located just 14 miles from downtown Manhattan, the airport offers the fastest surface transfer journeys to many parts of the city, including the AirTrain service to New York Penn Station in midtown Manhattan, with a journey time of less than 30 minutes. From New York/Newark, United operates flights to more than 280 destinations in North, Central and South America and the Caribbean, including more than 100 served nonstop.
About United
United Airlines and United Express operate approximately 4,600 flights a day to 354 airports across five continents. In 2017, United and United Express operated more than 1.6 million flights carrying more than 148 million customers. United is proud to have the world's most comprehensive route network, including U.S. mainland hubs in Chicago, Denver, Houston, Los Angeles, Newark/New York, San Francisco and Washington, D.C. United operates 750 mainline aircraft and the airline's United Express carriers operate 545 regional aircraft. The airline is a founding member of Star Alliance, which provides service to 191 countries via 28 member airlines. For more information, visit united.com, follow @United on Twitter or connect on Facebook. The common stock of United's parent, United Continental Holdings, Inc., is traded on the NYSE under the symbol "UAL".
For further information contact:

Kevin Johnston
Head of Press, Europe, Middle East, Africa and India
Tel +44 (0)20 8276 6305
kevin.johnston@united.com