ANA/VINCI Airports awarded by ACI in response to pandemic COVID-19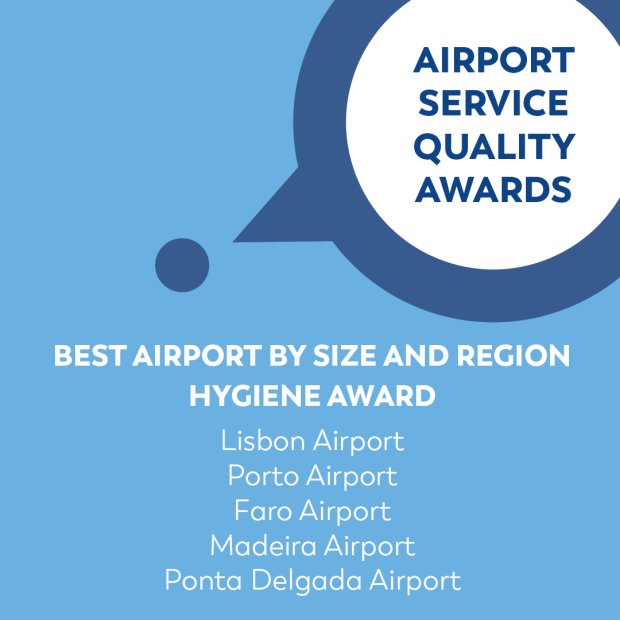 Lisbon airport was distinguished by ACI Europe, for "Best Airport and "Best Hygiene Measures". These awards, in which other airports of the VINCI Airports network are also highlighted, recognises the Portuguese Airports for their continued commitment to the passenger experience and safety in the context of the COVID-19 pandemic.
The "Best Airport" award contemplated the dimension in the European region of the airports. The distinction for Lisbon occurs in the 25 to 40 million passengers category.
ANA/VINCI Airports is committed to contributing to the national effort to mitigate contagions, ensuring, as safely as possible, the continuity of the public service it provides. We highlight the agile and efficient response in the implementation of sanitary measures, as well as the focus on innovation in the processes of contact with passengers at all moments of interaction, something that allowed keeping Portuguese airports fully operational throughout last year.
According to Luis Felipe de Oliveira, Managing Director of ACI World, "the awards demonstrate the winning airports' focus on delivering excellent experiences, highlighting them as exemplary." He reinforces that even in the face of circumstances, the voice of passengers recognises the teams' efforts and commitment to providing superior services.
Thierry Ligonnière, CEO of ANA - Aeroportos de Portugal, highlights the importance of this recognition: "In a year of uncertainty, our teams have shown commitment and resilience. We have been able to reinvent ourselves, adapt and innovate, ensuring the protection of all, for all. These awards indicate to us that we are on the right path for the recovery of the aviation market, with the necessary confidence in the new passenger experience."
The ACI awards were attributed within the scope of the international ASQ program, Airport Service Quality, which aims to measure passengers' overall satisfaction with the services and products offered and to understand how their perspectives and expectations have changed. Implemented on a global scale, this initiative identifies best practices, promoting competitiveness in the industry.
https://www.aeroportolisboa.pt/en/lis/home
https://aci.aero/news/2021/03/01/worlds-best-airports-for-customer-experience-revealed/