Your FAQs About KwaZulu-Natal
Safety
Safety precautions in Durban and KwaZulu-Natal are not unlike those recommended when travelling to other countries and major cities in the world. More common sense than hard and fast measures, safety precautions in South Africa mostly require vigilance on behalf of the traveller and sound travel preparation.
Important advice includes avoiding deserted areas at night; securing valuables such as photographic equipment and wallets on your person; and leaving expensive, flashy jewellery in your hotel safe while out and about.
South Africa and its people are very warm and hospitable as attested by the high number of foreign nationals who have successfully integrated into communities all over the country, in cities, towns and villages. The country is founded on one of the world's most progressive constitutions which against all intolerances such as racism, xenophobia, homophobia and sexism.
How to get to Durban
International airlines that offer flights to and from King Shaka International Airport in KwaZulu-Natal, Durban are Emirates to and from Dubai; Air Mauritius; Airlink to and from Maputo in Mozambique and SA Express to and from Lusaka in Zambia and to and from Harare in Zimbabwe. All other international destinations may connect through Oliver R Tambo International Airport in Johannesburg or Cape Town International Airport.
King Shaka International Airport serves the city of Durban and is within an easy 40km reach. Taxi fares from the airport to the main hotels on Marine Parade and centre of Durban can cost about R400 ZAR (~US $50). Next to the airport taxi rank, there is an airport shuttle bus service that leaves every hour on the hour (or as soon as the bus has several passengers) for R80 ($10.50) per person, though it may take longer to reach your hotel. The shuttle also stops in Umhlanga at all the hotels and at a lower cost.
Travelling around South Africa is relatively easy. Principal air routes are serviced by SAA and British Airways, operated by Comair. There are 2 low-cost carriers on main routes, namely Kulula.com and Mango airline. South African Express and Airlink serve the smaller centres.
Facilitating travel around South Africa are 9 airports managed by the Airports Company South Africa (ACSA), among them OR Tambo International Airport (ORTIA), King Shaka International Airport and Cape Town International Airports. In addition, there are some 90 regional airports, including the Kruger Mpumalanga International Airport in Nelspruit and the Skukuza Airport, offering access to the Kruger National Park.
An extensive tarred road system makes travelling in South Africa by vehicle convenient and easy. You will find gravel roads in rural areas though. Note:
A valid international driver's license is required.
We drive on the left hand side of the road.
Wearing seat belts is compulsory and cell phones can only be used 'hands free'.
Speed limits are generally set at 120km on freeways, 100km on secondary roads and 60km in urban areas.
Toll fees apply on certain national roads.
Petrol stations are widespread.
Most global car hire firms have branches in South Africa, along with local concerns.
The Automobile Association (AA) supplies road maps.
Another means of getting around South Africa are luxury inter-city bus services such as Greyhound and Trans-Lux, as well as the backpackers' Baz Bus. Metrobus buses are available for in-city transport. Metered taxis must be ordered by telephone. There is a hop-on-hop-off bus in Cape Town and Johannesburg. Our rail system includes the long-haul, inexpensive Shosholoza Meyl Metrorail trains. More luxurious options are the Blue Train, Premier Classe and the steam train Rovos Rail.
How do I book internal flights?
Flights may be booked as usually done through the various online portals, travel agents or at the various airports.
What to do if delegates had a few hours/days extra?
The 'holiday city"of Durban in KwaZulu-Natal is a renowned premier and leisure tourist destination and is located in South Africa's warmest and sunniest province. The city offers a host of easily accessible activities including the following 10:
1. Explore the Indian District
Two waves of Indian emigration—one of indentured servants under British rule beginning in 1860 and the second by traders in the 1880s onward—helped make South Africa's most multicultural city home to the highest concentration of Indians outside India. Take a guided walking tour of the district around Dr Yusuf Dadoo (Grey) and Bertha Mkhize (Victoria) Streets to immerse your senses in the city's Indian heritage and history. Tourism KwaZulu-Natal's "Oriental Walk-About" includes stops at the Zulu Muti (traditional medicine) Market and the Victoria Street Market (the Vic), where dealers in traditional kurtas and saris hawk incense, ornately embroidered fabrics, and aromatic spices.
2. Voyage to the Bottom of uShaka Sea World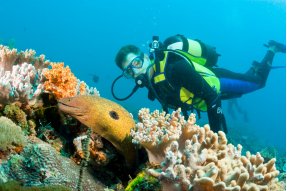 One of the world's largest aquariums, uShaka Sea World, is the centrepiece of the 40-acre uShaka Marine World, encompassing the Wet and Wild Water Park and the Village Walk Shopping Center. The aquarium's animal encounters promote sustainable use of the marine environment. Sign up for the Ocean Walker experience to don a tethered breathing helmet and walk slowly across the bottom of the Open Ocean Exhibit, home to rays and assorted pelagic fish that include tuna, dorado (mahi-mahi), and sardines. Or step into a clear, enclosed cylinder and drop into the large shark tank as part of the Shark Dive Experience. No diving experience required (ages 12 and up).
3. Stroll or Bike the Golden Mile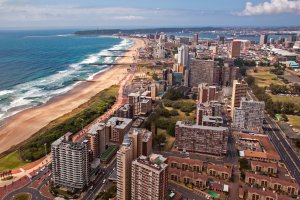 Named for the golden sand beaches lining the coastal edge of the city's central business district, the popular "Mile" actually extends about four miles from Blue Lagoon south to Addington Beach and Durban Harbor. A wide, brick-paved promenade makes it easy to walk, jog, or bike the route, detouring out on the piers to watch surfers, kite boarders, and sand castle architects, or soak in the warm Indian Ocean breeze. Join eco-active outfitter Bike & Saddle for a guided morning cycle along the Mile. Fee includes bike and helmet rental, plus a breakfast pastry and coffee.
4. Learn About the "Durban System" at KwaMuhle Museum
Housed in the former headquarters of the city's Native Affairs Department (colonial-era architects of the "Durban System" racial segregation policies), the KwaMuhle Museum shares the story of Durban's past and present. Topics covered range from black migration and apartheid to ongoing "green street" (energy-saving retrofitting and indigenous tree planting) efforts in historic Cato Manor township. Photographs, government documents, videos, and personal testimonials illustrate how the Durban System provided the framework for the national apartheid policy. True to its name—isiZulu for "the place of the good one"—the museum celebrates the courage of the "ordinary" South Africans who challenged racist policies and won.
5. Walk Among "Living Fossils" at the Botanical Gardens
Founded in 1849, Africa's oldest surviving botanical gardens houses one of the world's top collections of "living fossil" plants. These pre-dinosaur cycads (seed-producing plants extending back 250 million years) face possible extinction in the wild. The Wood's Cycad species is named for founding Durban Botanic Gardens curator and botanist John Medley Wood, who, in 1895, discovered a single, surviving cycad plant in a Zululand forest. Walking through the Gardens's cycad forest is a bit like stepping onto the set of Jurassic Park. No dinosaurs here, but the pink-backed pelicans sitting in the trees do look eerily like pterodactyls.
6. Take a KwaZulu Natal Sharks Board Boat Tour
Beaches along the KwaZulu Natal coastline are the only ones in South Africa protected by shark safety gear (including nets and anchored drum lines), making shark attacks here rare. While the top priority of the KZN Sharks Board is protecting swimmers and surfers, the institute also works to educate the public about shark behavior and biology, as well as to reduce the environmental impact of safety measures (other marine life can get caught in the nets). Join a working Sharks Board crew on an early morning boat tour to see the safety system, learn about sharks, and likely encounter dolphins, turtles, and rays.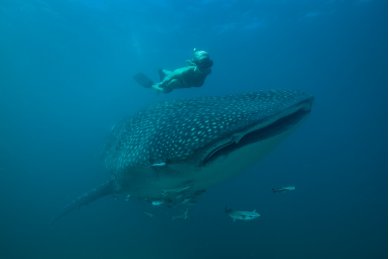 7. Bushwalk at Tala Game Reserve
Tala Game Reserve brings the African bush within an hour's drive of Durban. Home to 380 species of birds and big game—including rhinos, wildebeests, bok, warthogs, hippos, and giraffes—the sanctuary is spread over 7,400 acres of African bushveld. Take a two-hour guided bushwalk, ride with a ranger on a two-hour game drive, or explore the park at your own pace on a self-drive safari. Book a night in one of the reserve's luxury lodges or rustic rondavels (huts), and wake to the African fish eagle's loud call—a distinctive, haunting sound known as "the voice of Africa.
8. Catch a Sharks Rugby Match
Professional rugby is a bruising blend of football, soccer, and small-scale sumo wrestling, and the KwaZulu-Natal Rugby Union team, The Sharks, consistently ranks as one of South Africa's best. The action on the field at Durban's Mr. Price Kings Park (the "Shark Tank") is fast and furious, and the spirited fun continues at celebratory after-parties on the outerfields. While the atmosphere in the 52,000-seat stadium is family friendly, it wouldn't hurt to dress like a Sharks fan. Wear red and black, or pick up some team gear from the Shark Cage before the game.
9. Follow the Inanda Heritage Trail
Key chapters on South Africa's history were written in Inanda, a sprawling township northwest of Durban. Mahatma Gandhi nurtured his passive-resistance philosophy here as an Indian expat lawyer in 1904. John Dube, first president of the African National Congress, was born here in 1871 and opened the local Ohlange Institute where, in 1994, Nelson Mandela voted in South Africa's first democratic elections. The Inanda Heritage Trail encompasses key historic sites, including Gandhi's Phoenix Settlement and the Inanda Seminary, one of South Africa's oldest schools for girls, founded by American missionaries in 1869. Contact Tourism KZN to schedule a guided tour.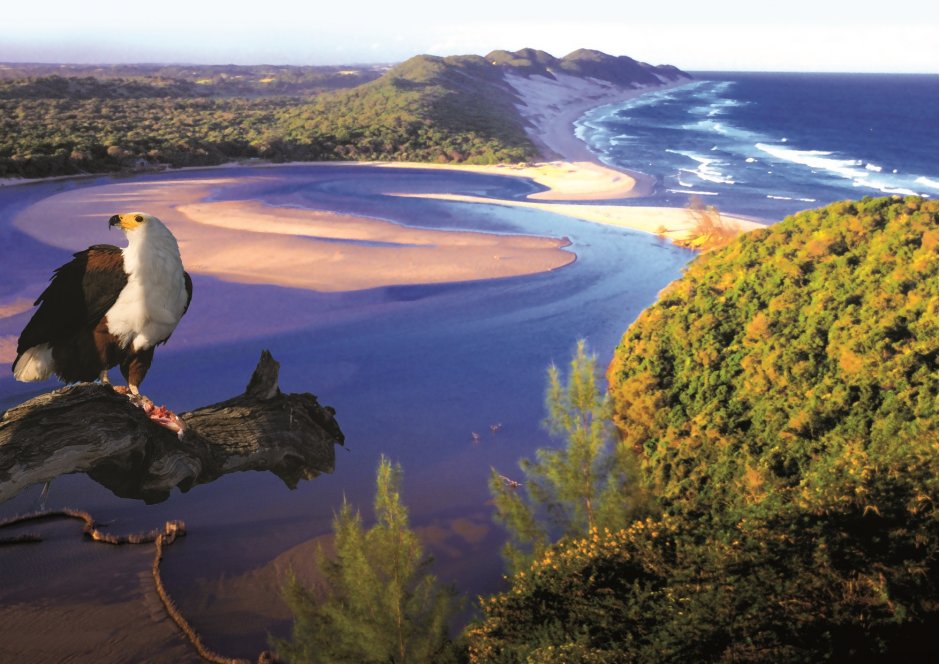 10. Hit the Beach
Comfortable sea temperatures averaging 70°F year-round, a subtropical climate, and 300-plus days of sunshine make any day in Durban a potential beach day. Each stretch of golden sand has its own identity: South Coast for world-class surfing, Addington Beach for families, Bay of Plenty for beach volleyball tournaments. The Golden Mile beaches closest to Durban's city center are the most convenient. For more blanket room, head north to the Umhlanga Coast to swim and kite board at Umhlanga Rocks, or to hike the coastal forest boardwalk trail through Umhlanga Lagoon Nature Reserve, home to vervet monkeys.
Where are the best restaurants?
Durbanites as the people of Durban are know are extremely laid back and enjoy their restaurant, bar and coffee culture. Restaurants are spread across the city with a major concentration along Florida Road close to the conference venue.
With its warm street vibe and unique, historic architecture, spending time on Florida Road is an atmospheric experience. Home to a range of restaurants, galleries, boutiques, studios and bars, Florida Road has earned its reputation as one of the city's trendiest streets, where people gather to shop, eat, drink, meet and hang out. Some of Durban's most popular restaurants are based here, to name a few:
Taco Zulu – Durban's upbeat Mexican grill house

House of Curries - Authentic Indian Cuisine

Spiga D'oro – Florida road's busiest & liveliest Italian restaurant
Alternatively you could visit Durban Point, home to the uShaka Marine World and the Moyo restraint, situated on the uShaka pier. This famously warm hospitality and modern African ambiance make the moyo experience an unforgettable one.
What will the weather be like?
South Africa's warmest and sunniest province on the country's east coast, is a renowned premier and leisure tourist destination, boasting the 'holiday city' of Durban. The daytime temperature in September will be in the mid-20's Celcius or upper 70's Fahrenheit. This is also the low rainfall time of the year. Delegates should carry a light jacket for evening activities. Ocean temperatures average about 22 degrees C/72 degrees F so delegates can definitely plan some time on Durban's beautiful beaches.
What city tours are available in Durban and how can I book this?
In partnership with our hosts, we will provide a variety of complimentary tours to help you make the most of your trip; these can be booked via the World Routes event page:
Can I get to Cape Town from Durban?
Travel between all South African cities is relatively easy by air with Durban to Johannesburg being 1 hour 10 minutes and Durban to Cape Town within 2 hours. Self drive options are also very popular using car rental options as the South Africa offers the very scenic Garden Route and the Karoo which are two different options that are approximately 1,400kms by road.
How far is it to get to a safari area and how do I get there if I don't want to drive?
Wildlife in KwaZulu-Natal includes both land and water safaris. The various game reserves have offerings that appeal to all. Ezemvelo KZN Wildlife is a governmental organisation responsible for maintaining wildlife conservation areas and biodiversity in KwaZulu-Natal, South Africa. The organisation manages over 30 such parks which include accommodation. There are also a range of private game reserves that offer 3 to 5 star bespoke experiences.
Where should I stay when I want to go on safari and how long should I stay?
The range of safari options may be explored through the Ezemvelo KZN, Wildlife and Tourism KZN websites as well as though private commercial travel agents.
How do I get around?
The websites of Durban Tourism, Tourism KwaZulu-Natal and South African Tourism provide a range of options as thought leaders in planning a variety of visitor experience in Durban, the province of KwaZulu-Natal and South Africa. Options range from a few hours to days or a few weeks with self drive, chauffer drive or packaged tour options easily available from travel agents anywhere in the world.