The route development forum for the Americas
Bogota, Colombia
• 19 – 21 March 2024
Conference Programme
Bringing together high-profile speakers and senior leaders from the air service development and aviation industries.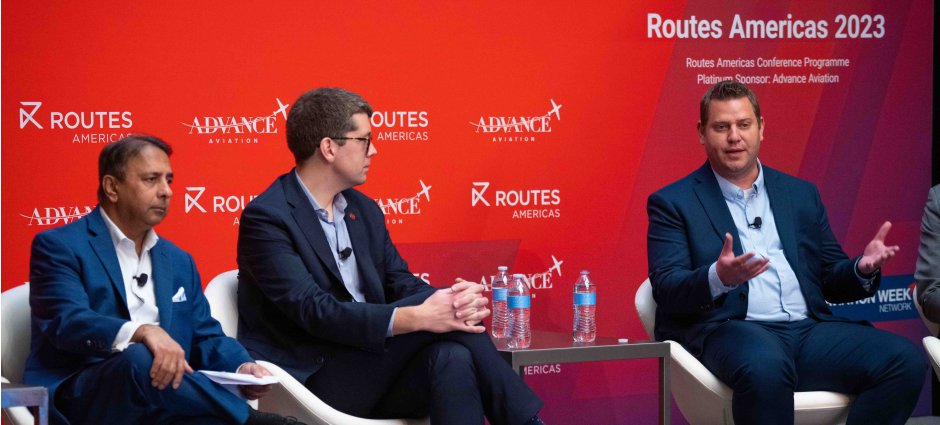 Comprising keynote interviews, panel discussions, airline briefings and best practice workshops, the Routes Americas 2024 conference programme will provide you with exclusive insight into the key air service development issues driving change across the region, exploring the future of route development.
Across the three-day programme, we will see speakers cover themes such as the airline network growth strategy through alliances and partnerships, what's happening in the transatlantic market and how the pilot shortage is affecting route development in the region
Book your place View the event programme
Tuesday, 19 March 2024
Welcome introduction from Routes. Hear what you can expect over the course of the event.

Hear more about why Routes Americas 2024 is taking place in Bogotá.

-

CEO Keynote Interview: LATAM Airlines Group

Roberto Alvo has been LATAM Airlines Group's CEO since March 2020, successfully steering the company through a restructuring process during the pandemic. The group, created by the 2012 merger of Chile's LAN with Brazilian rival TAM, is now back in profit and on the expansion trail. In a full and frank interview, Alvo will outline the airline's major plans for the years ahead, including its partnership with Delta Air Lines, its network strategy, and its ongoing fleet renewal plan.

-

Keynote Address – State of the Industry: Latin America and the Caribbean

The future potential of air travel in Latin America and the Caribbean is huge, emerging as one of the most dynamic regions globally. This session will outline the current state of the aviation industry in the region and what needs to be done to address such challenges as safety, infrastructure constraints, high taxes, and sustainability measures.

-

Keynote Address – State of the Industry: North America

Demand remains strong for North America's aviation industry, driven by domestic travel in the U.S. and a burgeoning transatlantic market that saw a record number of flights during the summer 2023 season. However, operational disruptions due to labour shortages persist, impacting regional connectivity, alongside uncertainties surrounding future consolidation. This session will explore the current state of the North American market and what we can expect next.

-

CEO Keynote Interview: JetSMART

Chile-based JetSMART has grown its operations to have Argentinian and Peruvian subsidiaries and will soon launch a new offshoot in Colombia. In an in-depth interview, CEO Estuardo Ortiz, who founded the ULCC in 2017, will discuss the airline's continued expansion, including its network strategy, fleet plans, and partnership with American Airlines.

-

Panel Discussion: Aviation Competitiveness in the Caribbean

The Caribbean presents promising opportunities for improved air connectivity, both within the region and with untapped markets in South America and Europe. However, the recovery in the area lags behind 2019 levels in terms of flight frequencies and available seats.

During this discussion, a panel of aviation leaders will provide insights into the competitive landscape for airlines and airports in the Caribbean. It will cover the region's progress on traffic and financial recovery, and future development opportunities, offering a comprehensive overview of the current state and future potential of aviation in the Caribbean.

-

Keynote Interview: Arajet

Dominican Republic-based Arajet launched commercial operations in September 2022, operating from a hub at Santo Domingo's Las Américas International Airport. Since then, the carrier has expanded its network to more than a dozen countries in the Americas, including recent additions Argentina and Canada. In this interview, CEO Victor Pacheco will lift the lid on Arajet's bold ambitions.
Wednesday, 20 March 2024
Thursday, 21 March 2024
-

Keynote Interview: Avianca

Moderated by Michael Bell, Senior Client Partner, Aviation & Aerospace, Korn Ferry

Colombia's largest airline Avianca is expanding at a fast pace after two competitors ceased operations earlier in 2023. The carrier, which restructured during the pandemic and is now part of Abra Group alongside Brazil's GOL, is back in profit and preparing to further bolster its fleet. Deputy Frederico Pedreira will outline what's next for the South American airline, including its network strategy and how it intends to continue growing in a sustainable way.

Exclusive updates direct from key airline decision makers and network planners.

Exclusive updates direct from key airline decision makers and network planners
* Please note like all events, the programme is subject to change.