Official Hotels
We always recommend you stay in one of our preferred hotels when you attend a Routes event. Not only will you enjoy discounted rates, you'll also benefit from complimentary shuttle bus service to and from the event venue, networking events and Naha Airport.
Please note, the Hilton Okinawa Chatan Resort has a unique booking link, different from the other official hotels.
WARNING - FRAUDULENT HOTEL BOOKING AGENCY

We have recently been made aware of a fraudulent hotel booking company who are contacting exhibitors and claiming to be either a preferred supplier or, in some cases, working for the show/exhibition itself.

Please be wary of any other accommodation companies making claims to be affiliated to Routes Events or purporting to be our official hotel provider. In case of doubt, please contact a member of the Registration Team.
---
Hilton Okinawa Chatan Resort
Distance: 20 min drive to the venue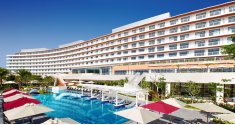 Located on the waterfront, within a 10-minute walk of Akara Gallery, American Village, and Sunset Beach, this hotel features two restaurants, three outdoor pools, and an indoor pool. Additionally, a health club, a bar/lounge, and a poolside bar are on site. Depot Island and Katsuren Castle Ruins are also within 10 minutes.
---
Laguna Garden Hotel
Distance: 12 min walk or 3 min drive to the venue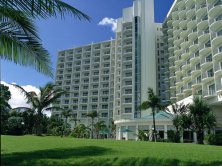 Located virtually in the center of Okinawa, within walking distance of the Okinawa Convention Center and close to the popular areas of Naha and Chatan, this hotel has a full-service spa, and indoor and an outdoor pools. Relax with a drink at the bar or sit down to a meal at one of four restaurants.
---
Moon Ocean Ginowan Hotel
Distance: 5 min drive to the venue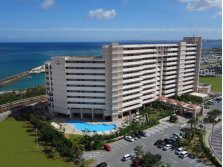 Nestled in the heart of Ginowan, Moon Ocean Ginowan Hotel is an ideal spot from which to discover Okinawa. From here, guests can enjoy easy access to all that the lively city has to offer. This modern hotel is in the vicinity of popular city attractions and features and outdoor pool and fitness centre.
---
The Beach Tower Okinawa
Distance: 20 min drive to the venue.

Located in Chatan, this beachfront hotel is in the entertainment district, just steps from Chatan Park and Sunset Beach. Japanese and Western food is served at the restaurant, which offers beach views. Light meals can be enjoyed at the Bar Lounge.
---
Vessel Hotel Campana Okinawa
Distance: 20 min drive to the venue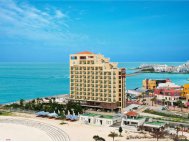 Located right in front of the beautiful Sunset Beach, Vessel Hotel Campana Okinawa boasts fantastic views overlooking the sea. It is situated next to the lively American Village and in the same region as Shuri Castle and Okinawa World.