Tour Programme
Half-day Tour - Shurijo Castle and Traditional Okinawan Coral Dyeing
Shuri Castle served as the proud and dignified center of the Ryukyu Kingdom with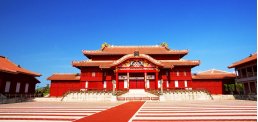 architectural influences from both China and Japan, the castle shows its exceptional cultural and historical values in its unique stonework and architectural design. Thus, Shuri castle was designated as a World Heritage Site in December of 2000, the 11th World Heritage Site within Japan.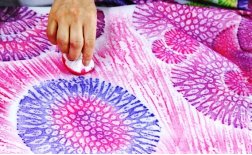 In traditional Okinawan coral dyeing, stamps made from fossilized coral are used to dye patterns on cloth. The dyed cloth is then used in kimono, scarves, bags, T-shirts, and wrapping clothes. Participants will observe and experience this traditional cloth dyeing process before being able to create your own original and unique work of cloth art.
---
Half-day Tour - Okinawa World, Theme Park and Seifa-utaki, Sacred Site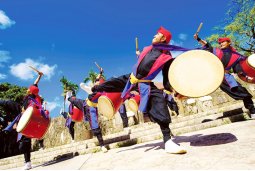 Okinawa World is the Okinawa Prefecture's foremost theme park and presents the local history, culture and nature all in one location. The park's main attraction is Gyokusendo; a 5000 meter long cave that was formed approximately 300,000 years ago. Participants will also experience traditional folk craft such as glass blowing, pottery and a high-spirited Eisa dance show.
Seifa-utaki was the significant sacred site in the Ryukyu Kingdom. Kikoe Ogimi, the Ryukyuan supreme priestess, was in charge of this sacred site which was inaccessible to men. Seifa-utaki in combination with a number of Castle Remains has been recognized as a UNESCO World Heritage Site.
---
Half-day Tour - Nakagusuku Castle and Southeast Botanical Gardens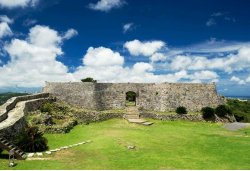 Nakagusuku Castle is on the list of 100 famous castles in Japan. It is also designated as a Japanese historical site as well as a UNESCO World Heritage site. It is assumed that there were more than 300 Gusukus in the Ryukyu Kingdom. Nakagusuku Castle is one of the best preserved castles in Okinawa. The reason is that it suffered from very little damage during the past wars. Due to this fact, Nakagusuku Castle has great historical and strategic value.
Over 30000 specimens of 1300 species of tree and shrubs grow in Southeast Botanical Gardens, along with rare and exotic plants and animals, colorful flowers that are pleasing to the eyes. Pause and look around , then you will notice the beautiful world around you. Take a leisurely stroll and enjoy the lush botanical environment.
---
Half-day Tour - Zakimi Castle and Ryukyu Village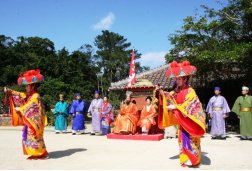 Zakimi Castle was built around 1420 by Gosamaru, a great commander who played an important role during "Sanzan Period (war-torn era)" and worked hard to secure the Ryukyu Kingdom after its unification. Even though the size is small, it features the most sophisticated and beautiful stone-built wall and gate among all castles in Okinawa.
Ryukyu Village is a small theme park displaying traditional Okinawan culture in the form of a recreated village from the times of the Ryukyu Kingdom. The village includes a traditional residence with a red tiled roof and surrounding stone walls built against typhoons. A wide range of performances are held at the village, including Eisa (drum performances), dances, concerts, parades and reenacted historical ceremonies.
---
Half-day Tour - Shikina-en Gardens, Makishi Public Market and Tsuboya Yachimun Dori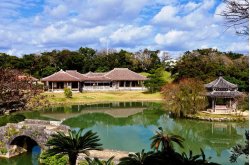 Shikina-en Garden was constructed at the end of the 18th century as the second residence of the Ryukyu kings. It features beautiful, relatively simple, wooden palace buildings employing Okinawan style red tile roofs and a spacious Japanese style landscape garden with a pond at the center.
The Naha Makishi Public Market, started in 1951 after WWII is the liveliest quarter of Okinawa and faces Kokusai Street. A lot of shops line the streets here, selling all kinds of products such as Okinawan seafood, local fruits and vegetables, meats, pickles, seasonings and sweets.
Tsuboya Yachimun Dori district was formed around 300 years ago when the Ryukyu administration gathered all the ceramicists and potters of Okinawa into one area. The shops here offer a variety of Okinawa pottery, everything from household dishes to decorative art pieces and the ubiquitous Shisa dog statues, reputed to guard home entrances and ward off evil spirits.
---
Full-day Tour - Glass-bottom Boat, Cape Manza and Okinawa World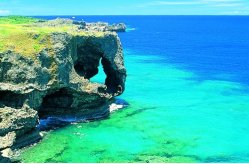 The glass-bottom boat tour sails from the Busena Marine Park taking voyagers directly over natural coral reefs, where fish and other marine creatures often approach within inches of the glass window.
Cape Manza offers a stunning view of the emerald sea and rough waves that pound the cliffs of the raised coral reefs. With wild grasses and plant colonies spreading far and wide, it is one of Okinawa's designated scenic spots. An uplifted coral reef cliff offers fabulous views of the emerald-blue ocean.
---
Full-day Tour - Okinawa Churaumi Aquarium & Bios Hill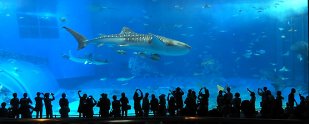 Okinawa Churaumi Aquarium, with the colorful paintings of coral reefs and tropical fish, is home to a few of the world's largest fish, the whale sharks, and world famous manta rays. The aquarium holds the world largest acrylic panel (8.2 m in height, 22.5 in width and 60 cm thick). There is also a deep-sea world zone with its luminescent living creatures.
With giant ferns growing luxuriantly, a lakeshore where wild birds and insects gather, naturally blooming orchids and a dense subtropical forest, Bios Hill park allows visitors to enjoy the bounties of Mother Nature either on foot or on board a boat. The boat takes you on a 25-minute jungle cruise that runs about 1km long. The boat captain is your guide and introduces the surrounding nature.