Tour Information
Shilin (Stone Forest) National Scenic Area
Saturday 14th– ( 3 Hour Drive) at 09:30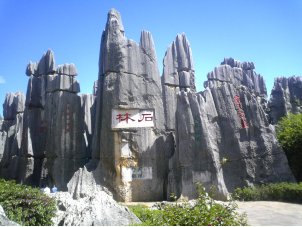 Known since the Ming Dynasty as the "First Wonder of the World" the Shilin (Stone Forest) National Scenic Area is a World Natural Heritage site and is classified as an AAAAA-class tourist site, the highest possible level for a tourist attraction within China.
The tall rock formations seem to make the stones look like petrified tress, hence the name the "Stone Forest", with some of the limestone formations believed to be over 270 million years old.
The magnificent, strange and steep landscape creates countless labyrinthine vistas, and whilst walking through the site visitors are able to marvel at the natural stone masterpieces and the intricate formations.
---
Yunnan Ethnic Village
Sunday 15th– 08:30
The Yunnan Ethnic Village is designed to showcase Chinese ethnic minorities' culture of architecture, costume, exquisite ethnic handicrafts and folk custom. The experience provides a fantastic opportunity for visitors to learn and understand exactly what the daily life of Chinese ethnic minorities involves.
With the various ethnic villages distributed along pathways, zigzagging galleries and exquisite arched bridges visitors will be able to view the colourful customs and architecture of 25 minorities which are within the Yunnan Province.
---
Routes Asia 2015 Golf Tournament
Sunday 15th- 08:00
Held at one of China's top rated golf courses, Yunnan Airport Group would like to invite delegates to join them for 9 holes of golf the Lakeview Golf Club, Kunming on Sunday the 15th March. Designed by Nick Faldo the course offers a spectacular course with equally amazing views, located within the Dachi Lake and Xishan mountain area.
The tour includes 9 Holes & Club Hire and lunch. Please be aware spaces are limited.
Pick up: Wyndham Grand Hotel at 08:00 and InterContinental at 08:05
Return: Prior to 13:00
Please note that these tours are operated and organised by our official hosts in partnership with Routes.