Official Venue & Hotel
Official Venue
Routes Asia will be held at the Yunnan Haigeng Convention Centre. The Haigeng Convention Centre is located just a 5 minute walk away from one of our official hotels, the Intercontinental Kunming.
---

We always recommend you stay in one of our preferred hotels when you attend any of our Routes events. Events in Focus are our only Official Accommodation Partner. Not only will you enjoy discounted rates, you'll also find dedicated information desks where you can get advice and information on all the event details.
WARNING - FRAUDULENT HOTEL BOOKING AGENCY

We have recently been made aware of a fraudulent hotel booking company who are contacting exhibitors and claiming to be either a preferred supplier or, in some cases, working for the show/exhibition itself.

Please be wary of any other accommodation companies making claims to be affiliated to Routes Events or purporting to be our official hotel provider. In case of doubt, please contact a member of the Registration Team on eventregistration@routesonline.com.
For more information on the official hotels please contact Aimee Stevens at Events in Focus, aimee@eventsinfocus.net or please contact +44 (0)207 902 7763.
---
Intercontinental Kunming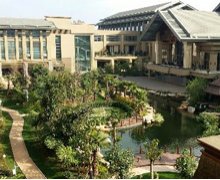 Deluxe King or Twin- CNY1,380.00 inc breakfast
(+15% tax)
Prices are per room per night
Includes Breakfast and complimentary high speed internet

Location: 5min walk from Haigeng Convention Centre
---
If the hotel of your choice is not featured please contact Aimee Stevens at aimee@eventsinfocus.net and we will secure a room for you.