The route development forum for the Americas
Indianapolis, USA
• 4 - 6 February 2020
Why Attend?
The only route development forum uniting the Americas.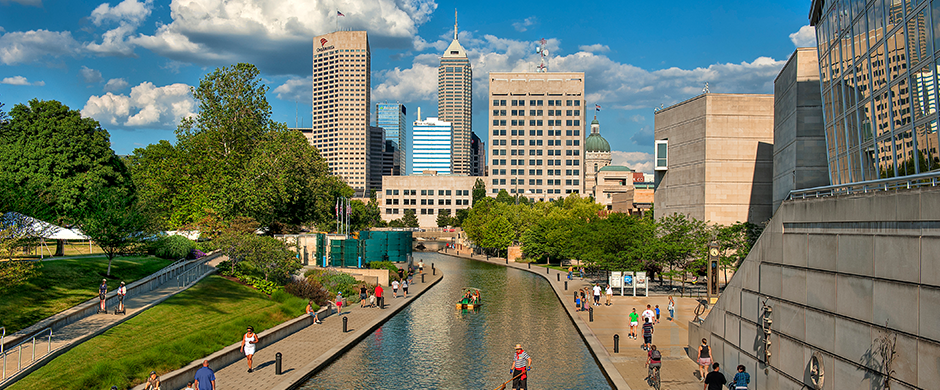 Routes Americas provides you with unmissable opportunities to discuss and negotiate future business with senior professionals from the air service development community. Over three business days, you will be able to arrange meetings and network with key targets during a comprehensive programme of face-to-face meetings and networking events, gain exclusice industry insight from high-profile speakers during the Routes Americas 2020 conference programme, and promote your brand to a qualified audience through a range of sponsorship and exhibition opportunities.
Engage in business-focused meetings
Forming the core of the event, our programme of face-to-face meetings provide senior decision makers from the region's leading airlines, airports, tourism authroties and other organisations with an efficient platform to meet their key targets. Secure pre-scheduled meetings ahead of the event, or use our On-site Meeting System to arrange meetings when you arrive in Indianapolis and discuss the route development plans that will go on to shape the region's future route networks.

Join the debate and gain exclusive industry insight
Comprising the most high-level speakers from across the sphere of aviation, the Routes Americas 2020 conference programme will provide you with a holistic view of the most pressing issues currently facing the industry. Hear from IATA, senior airline professionals and more as they deliver exclusive insight into how the market has changed in recent years and what it holds for 2020 and beyond.

Network with your industry peers
Engage with air service development professionals from across the region and beyond during our comprehensive programme of networking opportunities at Routes Americas 2020. Cultivate new contacts and build valuable business relationships with senior decision makers from the world's leading and fastest-growing airlines, airports and aviation stakeholders in a more relaxed and informal setting.

---
Who attends?
Airlines
Senior representatives from the reagion's leading and fastest-growing carriers utilise the event's efficient platform to expand their contacts and develop network strategy. Network planners from AeroMexico, American Airines, Delta, jetBlue, Southwest and many more have already confirmed their attendance at Routes Americas 2020.
Airports
Providing a direct path to qualified audiences from leading carriers, Routes Americas provides an efficient and effective platform for airports to do business and plan new route networks. Airports joining us in Indianapolis include Cincinnati/Northern Kentucky Intl. Airport, Dallas Fort Worth Intl. Airport, GAP Airports Mexico and many more.
Tourism Authorities
Allowing them to showcase their destination to the region's other aviation stakeholders at the event, tourism boards utilise this unique platform to help drive significant economic growth within their region, often working with their airport partners to present compelling route development business cases.
Industry Suppliers
Providing them with the opportunity to put their brand in front of the region's leading airlines, airports and tourism authorities through a variety of sponsorship and exhibition packages, Routes Americas is a 'must attend' event for industry suppliers from across the sphere of aviation.
Seniority of Delegation
Senior airline representatives from flag, network and low-cost carriers from across the region and beyond that have previously attended a Routes Americas event include:
Route Planning Director, Aeromexico
MD Global Network Planning, American Airlines
Senior Director of Planning and Revenue Management, Copa Airlines
Director Route Planning, JetBlue
Director Route Planning, Swoop
Network and Fleet Planning Director, TAR Mexico
President and CEO, WestJet