Polonia International Airport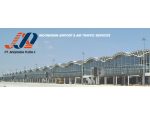 Organisation Type:

4 Million +

ICAO:

WIMM

IATA:

MES

Website:

Telephone:

+62 21 550 5131, +62 21 550 5134, and +62 21 550 5138

Country:

Indonesia
Status update: "has updated their Route Development / Marketing page within their profile"
Facts (Overview)
Polonia International Airport, located in Medan - North Sumatra, is one of the main gates to Indonesia. The airport is operated by PT. Angkasa Pura II (Persero), a State Owned Company operating 12 main airports in the Western part of Indonesia.
Polonia International Airport was built on a land area of 144 ha, this airport has a runway of 2900 m, 4 taxiways and an apron of 81.445 m2.
Its two terminals (domestic & international), with a total area of 13.811 m2, was originally built to handle the capacity of 900.000 passengers. Airlines operating at this airport are; Lion Air, Garuda Indonesia, Air Asia, Sriwijaya Air, Batavia Air, Riau Airlines, Kartika Airline, Susi Air, Sutra Airline, Silk Air, Malaysia Airline, Valu Air.
Currently the airport suffers from overcrowding, serving over 6 million passengers in 2010. The location of the airport is also considered too close to city center of Medan, about 2 km, making it difficult for an expansion program. These problems should be resolved by the construction of Kuala Namu International Airport, which will replace Polonia Airport. and become Indonesia's second-largest airport when opened in mid-2012.
NEW! - KUALA NAMU AIRPORT
The development of Kualanamu International Airport (also known as New Medan International Airport), was started in June 29th 2006, with the intention to replace the Polonia International Airport which is already beyond its capacity, comfort, and safety standards. The name of the new airport has not been officially decided by the Indonesian Government. Currently called Kualanamu Airport, because it is located in Kualanamu region of Deli Serdang - Medan, about 20 km North East of Polonia airport.
The new airport will be Indonesia's second largest, after Soekarno-Hatta International Airport. Phase 1 (2012) plans to serve around 8 million passenger annually, and will eventually have a capacity of 50 million passengers (2030). Kuala Namu Airport is aimed to be Indonesia's Domestic Passenger Hub and International Cargo Hub.
Figures
Number of Terminals:

Urban population:

Total Catchment Population:

Number of Runways:

Length of main runway (m):

Operational Opening Hours:

Ownership:

Number of Direct Destinations:

List of Top 5 airlines:

Passenger Numbers (mppa):

Cargo Tonnes (p.a.):

Number of Serving Airlines:

Aircraft Parking Stands:
Last updated: Jun 26, 2012
Last updated: May 1, 2013
Last updated: Aug 30, 2011
Last updated: Jan 9, 2012
Last updated: Aug 30, 2011
Last updated: Apr 23, 2013
Last updated: Aug 30, 2011
Back to Top