Delta resumes New York-JFK services, offers up to 12 weekly flights from Lisbon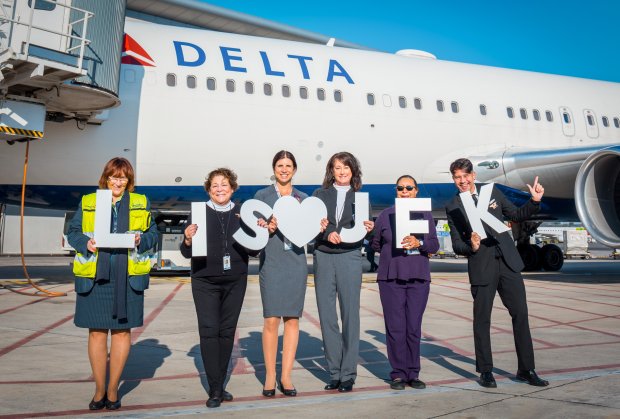 LISBON, 28 February 2022 – As customer demand for travel rebounds, Delta is restarting its nonstop service between Lisbon and New York-JFK, effective today (February 28, 2022). The service will operate five times weekly and will be complemented by a seasonal daily flight to Boston, effective May 3, 2022. Both services offer customers increased choice to destinations across the U.S., thanks to convenient onward connections via Delta's New York-JFK and Boston hubs.
"With COVID restrictions easing, bookings from Portugal to the U.S are up, while demand is strong from American tourists wanting to discover Portugal's historic cities, unspoilt coastlines and beautiful scenery," said Nicholas Ferri, Delta's VP Europe, Middle East, Africa and India. "With two routes and new products and experiences on board, Delta is offering something for every customer flying to or from Portugal, and we're looking forward to contributing to the continued recovery of the country's tourism industry this summer."
Francisco Pita, Chief Commercial Officer of ANA - VINCI Airports, said that: "The return of one of the largest US carriers to Lisbon is an important sign of the gradual resumption of air traffic. After almost two years of absence, this long-awaited return will allow the recovery of connectivity between Lisbon airport and the US market, reinforcing the importance of Portugal has as a destination country in this market.
This achievement rewards our efforts, supported by VINCI Airports, to rebuild connections so that travel, tourism and the economy can resume."
More sustainable products
As part of its sustainability journey, Delta is making changes to its onboard services to reduce single-use plastic. In Delta One, new amenity kits produced by Mexican apparel brand Someone Somewhere use regenerated cotton and eliminate five plastic items including zips and packaging. Delta One customers can also sleep comfortably with bedding made from recycled plastic bottles. Meals for international Main Cabin customers are served using new dishware made from biodegradable material, bamboo cutlery and a premium paper placemat.
Making international travel easier
Customers flying on Delta's Portugal routes will find a more personalized view of travel requirements, and easy-to-use document management features within Delta FlyReady℠, the airline's digital dashboard solution that helps customers verify they've met their destination's entry requirements prior to travel. Accessible via My Trips on delta.com and within the Fly Delta app, customers using the time-saving tool will enjoy a more streamlined experience when departing New York-JFK and Boston.
In addition, Delta has maintained safety-focused operations throughout the pandemic and continues to provide layers of protection to offer customers a safer travel experience.
About Delta
As a purpose-driven brand, we connect humanity, and by doing so, drive forward empathy and a deeper respect and care for our planet and the people within it.
With that in mind, Delta's ESG strategy is centered on lowering our carbon footprint, driving forward a diverse workforce that values equity and inclusion, and living these values in the communities where we live work and serve.
We are positioning ourselves to be a driver of change, for this generation and beyond.