American Airlines resumes Lisbon service to Portugal for the first time since the end of isolation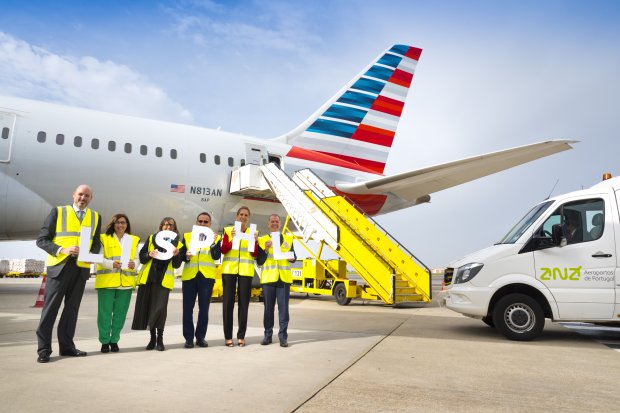 - American resumes seasonal flight between Lisbon (LIS) and Philadelphia (PHL) after a two-year suspension. - American will offer 16% more capacity in Portugal than in 2019, a result of larger aircraft operating in the market.
LISBON, Portugal -American Airlines continues to expand its presence in Europe with the return of its seasonal service to Portugal, operating daily between Lisbon (LIS) and Philadelphia (PHL). The airline's LIS-PHL flight will resume on March 28 and operate until October 29, complementing its European summer schedule with up to 56 daily flights to 14 destinations across the continent.
"We are excited to return to Portugal after a two-year suspension, further expanding our European network just in time for summer travel," said Rhett Workman, American's Chief Operating Officer, Europe, Middle East and Asia.
"Our seasonal service to Lisbon is coming back even stronger in 2022 with a newer, larger aircraft, offering our customers an elevated premium experience," said Tom Lattig, American's General Sales Director in Europe, Middle East and Asia.
Francisco Pita, Chief Commercial Officer of ANA - VINCI Airports, pointed out that: "American Airlines' return from Philadelphia to Lisbon is an important sign of the upturn in air traffic. After two years of absence, this return will allow the recovery of the connectivity of the Lisbon airport with the North American market, reinforcing the importance that Portugal has been assuming in this market, consecrating the efforts of ANA and VINCI Airports in rebuilding with the airlines and other partners the air connectivity, allowing the travel, the tourism growth and the economy to continue".
American will operate its Lisbon service with a 234-seat Boeing 787-8, offering 16% additional passenger capacity in this market. Customers will enjoy a full standard flight experience with Flagship Business and Premium Economy Class seating, as well as state-of-the-art interiors, live TV streaming, high-speed Wi-Fi and hundreds of on-demand movies and TV shows in each seat.
Tickets are available for purchase at www.aa.com/booking/find-flights