Sydney Airport, Australia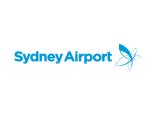 Organisation Type:

30 Million +

ICAO:

YSSY

IATA:

SYD

Website:

Telephone:

61 2 9667 9111

Country:

Australia
Status update: "has updated their Runways page within their profile"
Facts (Overview)
Sydney Airport has more routes, more destinations, more airlines and more frequencies than any other airport in Oceania.
It is a numbers game - and 2012 was Sydney Airport's year. 36.9 million passengers passed through our three terminals. An overall increase of 3.6 per cent. Our city's iconic beauty and economic importance ensures Sydney Airport continues to flourish as the 31st busiest in the world.
Our airport benefits from Sydney's cachet and powerhouse allure: Australia's largest city boasts the presence of global corporate giants, one of the fastest growing financial markets in Australasia, and is home to the country's dominant service sector.
Connect with us on Twitter (@sydneyairport), Linkedin (Sydney Airport Corporation Limited) and on Facebook (SydneyAirportOfficial).
Figures
Number of Terminals:

3

Urban population:

4.63 million

Total Catchment Population:

7.31 million

Number of Runways:

3

Length of main runway (m):

3,962m (16R/34L)

Operational Opening Hours:

0600 - 2300

Ownership:

85% Sydney Airport, 12% Hochtief AirPort GmbH and 3% other Australian super funds

Number of Direct Destinations:

99 (47 international and 50 domestic & regional)

List of Top 5 airlines:

Passenger Numbers (mppa):

36.9 million in 2012

Cargo Tonnes (p.a.):

Number of Serving Airlines:

39 airlines (34 international, 6 domestic and 6 regional)

Aircraft Parking Stands:
Contacts

Nik Hammond

Airline Marketing Manager

Anne Walker

Airline Marketing Coordinator

David Bell

Head of Business Development

Awards

Events
Last updated: Mar 6, 2013
Last updated: Jun 27, 2012
Last updated: May 2, 2012
Last updated: May 14, 2013
Last updated: May 14, 2013
Last updated: May 14, 2013
Back to Top