Bringing together the global route development community
Las Vegas, USA
• 16 – 18 October 2022
Sponsorship
Over 2,000 minutes of potential brand exposure to the world's leading and fastest-growing airlines.

Propel your organisation to the forefront of the route development community with our high-impact branding and promotional opportunities. Contact the team and discover how you can capitalise on the highest concentration of airline decision makers from the network planning community, all under one roof.
Download sponsorship brochure Contact the team
Why should we become a sponsor at World Routes?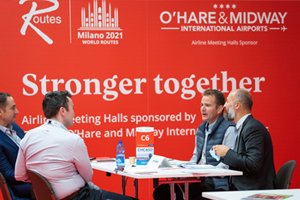 Our sponsorship packages will showcase your marketing messages to key figures from the industry, deliver unrivalled exposure and provide a distinct advantage over your competitors.
How do I know which package is right for my business?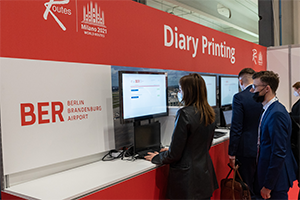 Each of our sponsorship packages has been designed to support the specific business objectives of the route development community. Our team are on-hand to help you identify the opportunity that will complement your overall strategy.
Which other companies will be sponsors?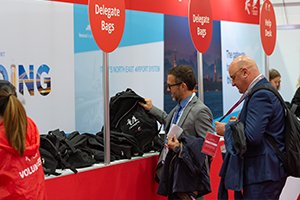 Over 650 C-suite delegates have attended World Routes in the past five years. Previous sponsors that have capitalised on this influential audience include Swedavia, Berlin Brandenburg Airport, Chongqing Airport and Venice Airport and Sanya Tourism, Culture, Radio, Television and Sports Bureau.
Confirmed Sponsors

Airline Meeting Halls Sponsor

Delegate Bags Sponsor

Registration and Airline Room Drop Sponsor

Information Zone Sponsor

Routes App Sponsor

Recharge Zone Sponsor

Wi-Fi Sponsor

Platinum Conference Sponsor

Platinum Conference Sponsor

Delegate Bag Insert: Notepads Sponsor

Venue Branding Sponsor: Hanging Banner

Venue Branding Sponsor: Hanging Banner
What our sponsors say
"World Routes is one of our most important touchpoints in the year with our airline customers. We really value personal contact and Routes offers the ideal setting for that!"

Marcel Lekkerkerk

Airline Partnerships Director, Amsterdam Airport Schiphol
"World Routes has allowed us to strike deals with many airlines. In a short span of time, we can refresh relationships with the airlines that operate to our airports and establish new connections with carriers for future route development opportunities."

Sallauddin Mat Sah

General Manager - Aviation Marketing and Development, Kuala Lumpur International Airport (KLIA)
Increase brand exposure to your target audience
Previous attending organisations include