Official Venue & Hotel
The Official Venue for Routes Americas 2017 is the The Aria Resort and Casino Convention Facility.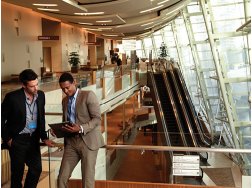 ARIA Resort & Casino provides a premium meeting experience with 300,000 square feet of technologically advanced space.
The spectacular 61-story, 4,004-room resort sets a new global standard in hospitality. The facility encompasses four ballrooms on three levels that accommodate 10 to 5,000 attendees, 36 meeting rooms and a Business Services Center. Three ballrooms feature fully functioning theatrical stages. The largest ballroom measures 51,000 square feet; two ballrooms offer 38,000 square feet each; and the fourth has 20,000 square feet. A full attentive staff will ensure every program is executed flawlessly, including all technical needs, from audiovisual to full-scale event production.
The convention facility is accessible from guest rooms via the second level promenade bordering the pool and showcases a unique blend of stunning architecture and distinctive décor. Natural light illuminates the facility through a dramatic glass curtain wall that spans the entire north façade. Scenic rooftop gardens and a design infused with elements of nature create an environment that welcomes the senses and blends business and pleasure.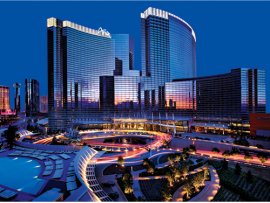 The AAA Five-Diamond ARIA Resort & Casino at CityCenter delivers a new kind of luxury in the center of the Las Vegas Strip. The spectacular 61-story, 4,004-room resort sets an exciting global standard in hospitality.
With floor-to-ceiling windows and warm, natural materials, the interiors of ARIA's guest rooms are just as spectacular as their panoramic views. ARIA provides a premium convention experience with 300,000 sq. ft. of technologically advanced meeting and pre-function space encompassing three levels with four ballrooms and 36 meeting rooms.
The room rate for The Aria Las Vegas Resort and Casino is $209.00 USD per night plus 12% tax.

A daily resort fee of $32.48 (tax inclusive) is added to all room reservations upon check-in.