Message from the Deputy Premier of Québec
Message de la vice-première ministre du Québec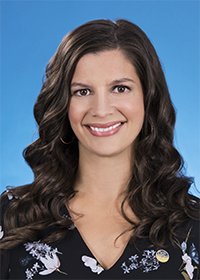 En tant que présidente d'honneur de la Conférence internationale Routes Americas 2019, je souhaite la bienvenue à Québec à tous les participants. C'est un honneur pour la ville de Québec d'accueillir cet important événement de l'industrie aérienne.
Je me réjouis que l'Aéroport international Jean-Lesage et son important potentiel de croissance soient ainsi mis en valeur. Le dynamisme de notre économie et nos nombreux attraits touristiques font de Québec une destination exceptionnelle en Amérique du Nord. Le développement de nouvelles routes aériennes vers Québec est donc une occasion à saisir pour les transporteurs aériens et les différents acteurs de l'industrie.
J'exprime le souhait que cette idée soit mise de l'avant durant cette édition 2019 de la Conférence internationale Routes Americas qui sera, j'en suis sûre, un franc succès. À tous les participants, je souhaite des discussions productives, du succès et, surtout, un excellent séjour à Québec.
Geneviève Guilbault
Message from the Deputy Premier of Québec
In my capacity as honorary president of Routes Americas 2019, I would like to welcome you to Québec City. We are honoured to host this major event.
I am delighted that Québec City Jean Lesage International Airport (YQB) and its significant growth potential are being showcased. Our economic vitality and numerous tourist attractions make Québec City an outstanding destination in North America. The development of new air routes to Québec City therefore offers air carriers and industry stakeholders a worthwhile opportunity.
I hope this will be recognised during Routes Americas 2019, which, I am sure, will be a resounding success. We wish all attendees a successful event and productive discussions, and, above all, an excellent stay in Québec City.
Geneviève Guilbault