In cities of Russia with "Rusline"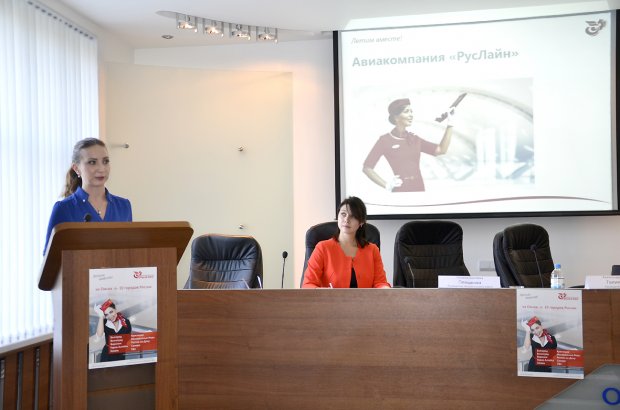 October 12, 2016 in the conference hall of the Omsk airport hosted a presentation of the program of regular flights of "Rusline" in the autumn-winter navigation.
Representing the company sales manager Alexander Galikbarova noted that "RusLine" repeatedly became the winner of aviation premiums in the segment of the best regional airline . To date, the airline route network connects more than 30 cities in the country.Based Carrier at Moscow's Domodedovo airport, the most important transport hubs are airports in St. Petersburg, Yekaterinburg, Tyumen, Rostov-on-Don and Voronezh.

During A.Galikbarova presentation told about the main directions of activity "Rusline" new transfer flights of the carrier, which will be carried out from Omsk during the autumn-winter navigation, and also introduced a new concept habovoj flight program through Tyumen and Yekaterinburg in the city of Gorno-Altaisk, Mineralnye Vody to Krasnodar, Belgorod, Volgograd, Voronezh, Kazan, Samara, Ufa and Rostov on-Don.

it was noted by the representatives of "Rusline" that the basis habovoj airlines flight model is the nodal scheme in which passenger traffic is formed in areas of the eastern part of Russia in the West. The advantage of this concept for the inhabitants of Omsk region - an opportunity to make a transfer flight from Omsk to the destination in the minimum time for the best rates.

- Of great importance is the fact that the transfer transportations carried out one airline. Buying shuttle flight, the passenger receives a better offer in terms of tariffs, convenient docking time, shorter travel times, baggage check until the final destination, - stressed the head of the department of technological and / to "Rusline" Tatiana Pleshkova.