About Marseille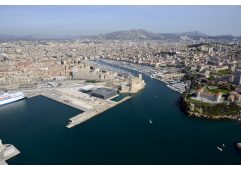 Voted 'No.2 Place to Go this Year' in 2013 by the New York Times, Marseille-Provence was founded over 2600 years ago. With a population of over one million inhabitants, it is the regional capital of Southern France. Combining Mediterranean mildness with Provence's quality of life the area attracts some 10 million tourists every year.

A port city with a strong identity, Marseille has managed to change with the times and become a dynamic capital of the Mediterranean region, open to the world. EUROMED, which is considered to be the largest urban renewal project in Europe, is at the heart of the strategic repositioning of this Mediterranean city. It combines urban planning with port activities, cruising and high-level yachting with tourists in mind.

Economic growth in the Marseille-Provence region is spurred on by leaders in the aeronautical and oil industries and in cutting-edge sectors such as micro-electronics, cosmetics, bio-pharmaceuticals and research. Many major and world-renowned companies have headquarters or sites in Marseille, including CMA-CGM, Eurocopter, L'Occitane and Ricard.

Marseille-Provence was appointed European Capital of Culture 2013, a title of which the region is incredibly proud. The 2013 calendar featured a wide variety of events to mark the year. The international magnitude of the occasion is expected to attract a further 3 million foreign tourists to the city and to world-famous destinations located within a 2-hour drive from Marseille-Provence Airport, such as Saint-Tropez, Avignon, Arles, Aix-en-Provence and ski resorts in the Southern Alps.

We welcome you to Marseille-Provence!