Complimentary Tours
Our hosts have provided a number of complimentary tours to allow delegates to explore Da Nang.
Booking is now closed for Routes Asia complimentary tours.
Tour 1 – Da Nang's History & Culture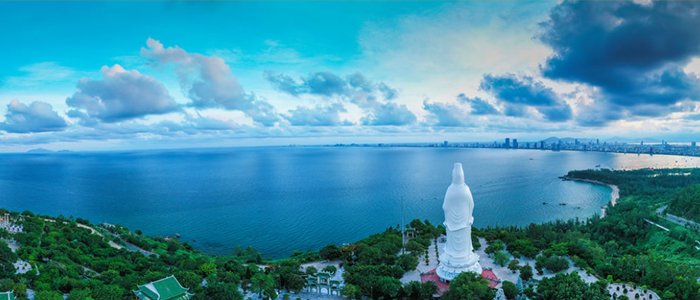 Date: June 5
Museum of Cham Sculpture: the Museum's first building was opened in 1919, but many Cham sculptures collected in Da Nang, Quang Nam and elsewhere were brought to the site over the preceding twenty years. They are vivid proof of confirming the history of a nationality living within the Vietnamese community boasting of a rich cultural tradition.
Marble Mountains (Five elements mountains) is a cluster of five hills located on the way to Hoi An. The five marble hills or "mountains" are named after the five elements (Ngũ Hành) of the ancient oriental philosophy.
Son Tra Peninsula is 10km from the center of Da Nang City to the North-east and is 693m high above sea level. Son Tra Mountain can be seen from every places of the city. Son Tra looks like a mushroom of which cap is Son Tra Mountain and stalk is a beautiful sandy beach that affords an ideal area for bathing, playing sports, fishing and swimming.
Tour schedule:
08:00: Pick up at the hotel.
08:15: Visit Marble Mountains, climb up the most beautiful peak to discover beautiful caves and visit old national pagodas.
08:45: Drop in the very famous traditional carving village to see skillful marble products by talented artists.
09:15: Transfer to visit Museum of Cham Sculpture, the most special collection of Champa sculptures in central Vietnam. Photo stop at Dragon Bridge.
10:00: Visit APEC Park
10:30: Transfer to Son Tra Peninsula to visit Linh Ung Pagoda. Drive up the mountain to Ban Co Peak to enjoy panoramic sea city of Da Nang at an altitude of 250m. Then drive through to the giant banyan tree, explore natural mountain forests carpet, continue along the mountainous southeast fare to admire the great beauty of the sea, beauty of Da Nang.
11:00: Drop off at the hotel. Tour ends.
Tour 2 – Nature & Leisure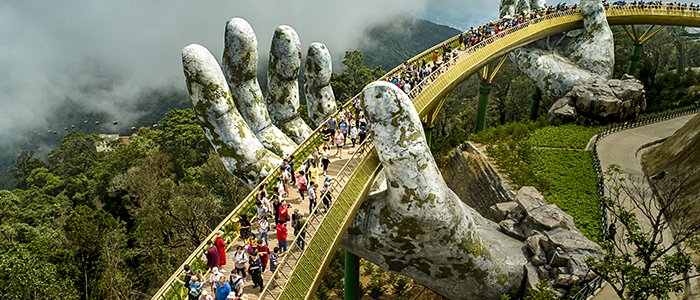 Date: June 5
Located in the Truong Son mountain range 25 km at an altitude of 1.487m, its temperate climate, unspoiled forest, and spectacular views over the city of Da Nang's awe-inspiring bay and the Lao mountain range made Bà Nà a past popular place to retreat for the French long ago. Ba Na Hills – the double Guinness World record breaking cable car, honoured as both the longest and highest non-stop system in operation. The 5.042m high cable car ride takes about 20 minutes, reaching a vertical rise of about 1.500m above sea level. However you will experience the cable car ride up to the hills. Upon arrival you will visit to the Ba Na Hills Fantasy Park, is a family entertainment complex.
Tour schedule:
08:00: Pick up guests at hotel.
08:30: Arrive at the cable car station. Sitting in the cabin, in mid air, looking upon the endless tree lone of the forest, bring you with spectacular views of the lush jungle and Fairy Water on busfalls along the way. Experiencing the pristine ecological system of the Ba Na mountain will leave you a sense of unforeseeable discovery.
10:00: Visit the Le Jardin, old wineries remains of French Villas, Golden Bridge and Linh Ung Pagoda with 27m high Buddha statue. Leave Le Jardin for the second cable car station to visit the top of mountain.
12:00: Lunch at restaurant
13:00-14:30: Visit and play game at the Fantasy Park, Du Dôme Square, French Village.
14:30: Return to cable car station at the foot of Ba Na mountain. Back to Da Nang.
15:00: Drop off at the hotel. Tour ends.
Tour 3 – Culture & Relaxation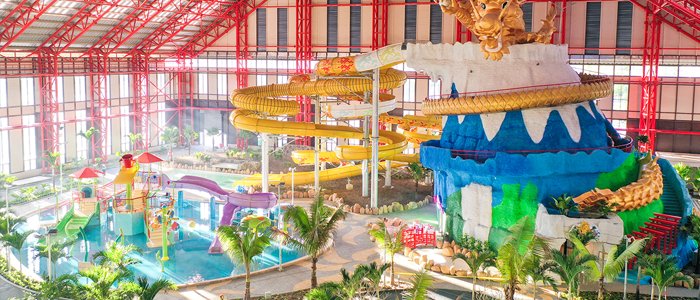 Date: June 5
With the mission of spreading Japanese culture quintessence in Vietnam, Danang Mikazuki is inspired by the place where heaven and earth converge and the rhythm of life begins. Be ready for an exciting journey and enjoy the unprecedented Japanese standard values.
Tour schedule:
08:00: Pick up guests at hotel.
08:30: Experience 365 Water Park –Mikazuki Resorts & Spa
09:30: Experience Mikazuki hot spring. Onsen hot mineral bath and soak your feet in a hot mineral pool. Sauna dry with pink rock salt. During your relaxing time here, you can use the services: Café Senchasou, fast food...
10:30: Experience Massage & spa Biyokea.
11:00: Drop off at the hotel. Tour ends.
Tour 4 – Wellness Tour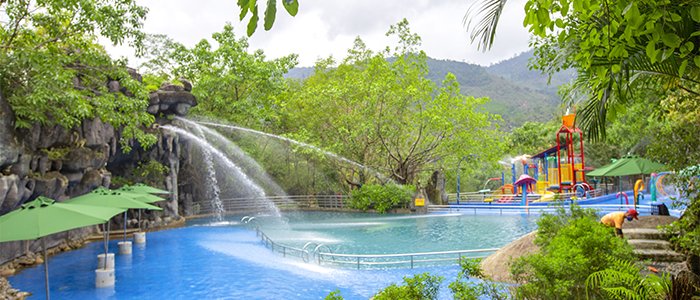 Date: June 5
As a natural masterpiece in the heart of the coastal city, Nui Than Tai Hot Springs Park possesses many beautiful natural landscapes. Visitors here will have many unique bathing experiences, and great relaxation moments. Natural hot springs are the most special and unique features in Nui Than Tai Hot Springs Park. Besides, visitors will enjoy and experience a hot mineral bath in the style of Japanese style bathing (Onsen bath) - an extremely beneficial activity for health. The feeling of immersing in the cool water helps to dispel the worries and chaos of life. After that, don't forget to head to the hot spring bathing area to relax your mind.
Tour schedule:
08:00: Pick up at the hotel and transfer to Than Tai Hot Springs Park
08:30: Relax at Than Tai Hot Springs Park:
Hot Mineral bathing at Huyet Long Pool and others mineral pools outdoor

After bathing, do not forget to enjoy longevity egg boiled from the precious natural hot springs resource.

Relaxing with Dry Steam and Wet Steam

Skating in Lazy river

Water games Area and Massage in Jacuzzi pool

Visit at mineral areas

Dipping Legs at Some Hot Spring Baths
Water Park
11:00: Restaurant lunch
13:00: Drop off at the hotel. Tour ends.
Tour 5 – Da Nang by Night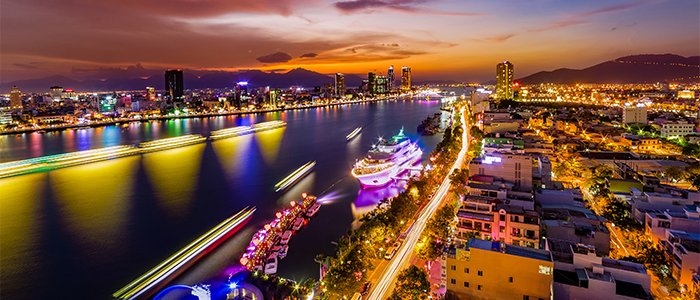 Date: June 5
Da Nang makes many tourists fascinated not only because of the spectacular destinations during the daytime, but also because of the attractive destinations at night. The night tour of the Han River will bring you an extremely interesting experience, in addition to seeing the bridges, you can also immerse your soul in front of the immense river and enjoy the beauty of the dreamy Han River. Next, you will experience the vibrant My An Night Beach and Danabeach Color with attractive entertainment services.
Tour schedule:
19:00: Pick up at the hotel and transfer to Han River
19:15: Start at the cruise terminal Han river, boat will take you to visit the city center at night on the Han river at night rhythms blend into the city of early sea and last river, you will see the famous bridges. According to Han river empties into the sea, you will see the bridges turn unique in Southeast Asia:
Tran Thi Ly Bridge - with modern architecture follow leaning tower style.
Dragon Bridge - a symbol of the spirit and aspirations of Vietnam in general and in particular the people of Danang in the 21st century.
Han River Bridge - the first rotation bridge in Vietnam and is the first fulcrum of Danang for a young and dynamic city as you are seeing.
Thuan Phuoc Bridge - the longest suspension bridge in Vietnam with spectacular cable-stayed system and staging sparkling lights at night look very beautiful.
20:30: Boats return at the starting position; transfer to My An Night Beach and enjoy services at Danabeach Color. The spot, decorated with rows of colorful tables and chairs, and umbrellas, enables visitors to enjoy pure air from the sea, relieve their tiredness, and have a fun time whilst enjoying delicious drinks and beautiful music here.