Paid Tour Programme
If you would like to book your place on any of the tours listed below, please email your name, telephone number and tour you would like to attend to CYTSmice801@hotmail.com
Full day Tour - Jinsha Site - Broad and Narrow Alley - Du Fu's Thatched Cottage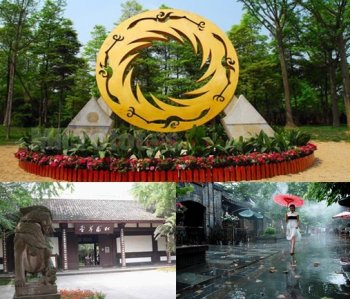 The tour begins at the Jinsha site, discovered on February 2001, it covers 5 square-kilometres, and dates back to the 12th to 7th century B.C. (2900-3200 years ago). At its peak it was the capital of the ancient Shun Kingdom, considered to be the ancient civilization centre along Yangtze River. It was the first major archaeological discovery in China at the beginning of the 21st century, and also a significant archaeological event following the discovery of the Sanxingdui site in Sichuan Province, becoming one of the Ten Major Archaeological Discoveries of China in 2001.
After a complimentary lunch the tour continues in at the Broad and Narrow Alley, which portrays the new lifestyle of Chengdu, an epicentre for fashion and culture, in partnership with some of the more traditional and classic representations of Chengdu. The day concludes at Du Fu's Thatched Cottage, named a National Heritage Site. Situated in the western outskirts of Chengdu, this park and museum was built in honour of the Tang Dynasty poet Du Fu.
Cost of Tour: $250 per person
Date
Itinerary
28th/29th/30th September
08:30 - 09:00
Gather at pick up point
09:00 - 09:40
Transport to Jinsha Site
09:40 - 11:40
Sightseeing at

Jinsha Site

12:00 - 13:00
Complimentary lunch
13:00-13:30
Transportation to Wide and Narrow Alley
13:30-15:30
Tour of Broad and Narrow Alley
15:30-16:00
Transport to Thatched Cottage
16:00-17:30
Tour of Du Fu's Thatched Cottage
17:30-18:00
Transportation back to pick up point
---

Full day Tour- Dujiangyan Irrigation System - Qingcheng Mountain - JieZi Ancient Town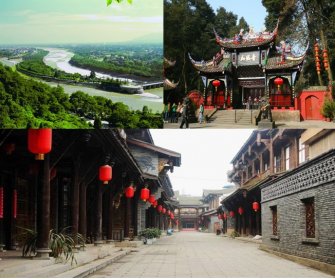 The tour begins at Dujiangyan, the oldest and only surviving no-dam irrigation system in the world and a wonder in the development of Chinese science. The project consists of three important parts, namely Yuzui, Feishayan and Baopingkou scientifically designed to automatically control the water flow of the rivers from the mountains to the plains throughout the year.
After a complimentary lunch the group will visit the Qingcheng Mountain. Mount Qingcheng, located in the southwest of the Dujiangyan Irrigation System of China in Sichuan Province, is one of the most famous Taoist mountains in China. It is also a very attractive and intriguing scenic spot that is covered by luxuriant and verdant trees. The mountain, which is surrounded by numerous peaks and is shaped like a city, is dubbed 'the most peaceful and secluded mountain under heaven' and combines perfectly with its evergreen scenery.
The tour concludes in the ancient town of JieZi. Located in Chongzhou City in western Chengdu, the town has a history of over 1,000 years and boasts 32 temples and a number of historical sites. It features an ancient temple about 1,500 years old, primitive forests, old gingko trees and Nan trees, an ancient stone pagoda and a well preserved street. The town is a good combination of natural scenery and artificial designs
Cost of tour: $330
Date
Itinerary

28th/29th/30th September

08:30-09:00
Gather at pick up point
09:00-10:30
Transportation to Dujiangyan
10:30 - 12:00
Tour of Dujiangyan
12:00 - 13:00
Complimentary Lunch
13:00 - 13:30
Transportation to Mountain Qingcheng
13:30 - 15:30
Sightseeing at Mountain Qingcheng
15:30 - 16:00
Transportation to JieZi ancient town
16:00 - 17:30
Sightseeing in JieZi ancient town
17:30 - 19:00

Transportation back to pick up point
---

Full day Tour - Chengdu Research Base of Giant Panda Breeding - Sanxingdui Ruins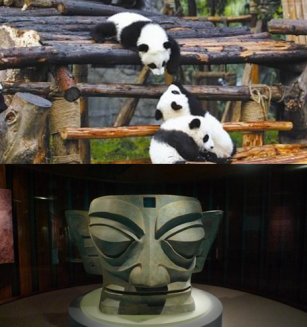 The day begins at the Chengdu Research Base of Giant Panda Breeding. The giant panda is a rare and beloved animal that only inhabits the six major mountain ranges in Sichuan, Shaanxi and Gansu provinces of China. The Giant Panda is considered a national treasure, with the base in Chengdu leading scientific research into this endangered species. The museum's includes displays of panda habitat and of pictures of pandas, and there are many scientific displays that give visitors a comprehensive education on their characteristics, habitat and distribution in the wild, and China's conservation and breeding efforts.
The tour continues at the Sanxingdui Ruins, located approximately 40km northeast of Chengdu. The Sanxingdui Archeological site has artifacts dating back as far as 3,000 b.c and is the largest museum in southwest China. Over a thousand priceless relics have been unearthed here including bronze wares, jade wares, ivories, shells, earthen and gold wares.
Cost of tour: $270 per person
Date
Itinerary

28th/29th/30th

September

08:30 - 09:00

Gather at pick up point

09:00 - 10:00

Transportation to Chengdu Research Base

10:00 - 11:30

Tour of Chengdu Research Base

11:30 - 13:00

Complimentary lunch

13:00 - 14:00

Transportation to Sanxingdui Ruins

14:00

- 16:00

Tour of Sanxingdui Ruins

16:00 - 17:30

Transportation back to pick up point

Two-day Tour - Leshan Giant Buddha and Mount Emei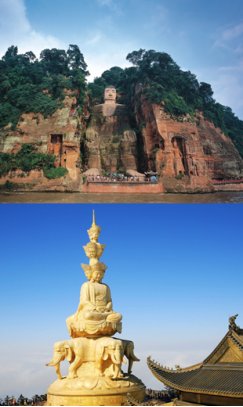 This two day tour explores an area of exceptional spiritual and cultural significance and a place of oustanding natural beauty. All meals, transportation and accomodation outlined in the event itinerary are included in the price of this tour.
Built during the 8th century the Leshan Giant Buddha is a 71-metre (233 ft) tall stone statue, carved out of a hillside that overlooks the confluence of three rivers. It is carved out of a cliff face that lies at the confluence of the Minjiang, Dadu and Qingyi rivers in the southern part of Sichuan province in China, near the city of Leshan. The stone sculpture faces Mount Emei, with the rivers flowing below his feet. It is the largest stone Buddha in the world and it is by far the tallest pre-modern statue in the world.
Declared a UNESCO World Heritage Site in 1996, Mount Emei is a mountain in Sichuan Province and is the tallest at 3,099m of the Four Sacred Buddhist Mountains of China. The mountain sits at the western rim of the Sichuan Basin, west of the Daxiangling mountains.
Cost: $780 per person
Date
Itinerary

28th - 30th September

Day 1

09:10 - 09:30

Gather at pick up point

9:30 - 11:30

Transportation to Leshan

11:30 - 12:30

Complimentary lunch

12:30 -15:30

Sightseeing at Leshan Giant Buddha

15:30 - 16:30

Transportation to Emeishan

16:30 - 17:30

Check in at Hotel and Complimentary Dinner

Day 2

06:30 - 07:00

Complimentary Breakfast and check out at Hotel

07:00 - 08:00

Transportation to Mount Emei

08:00 - 12:00

Cable car ride and tour at Golden Summit

12:00 - 13:00

Complimentary Lunch

17:00 - 20:00

Tour of Wannian and Qingyinge Monasteries

17:00 - 20:00

Transportation back to pick up point