Sponsorship Opportunities
With over 3,000 delegates, World Routes is the largest gathering of route development professionals in the world. Sponsorship presents your organisation with the unique opportunity to raise your profile in front of the world's airlines, airports, destinations and influential aviation authorities.
Our sponsorship packages are designed to gain maximum exposure and place your brand in front of key decision makers. With a presence both online and at the events, as well as worldwide media coverage, sponsorship will ensure your brands awareness will last pre, during and post event, increasing your reach and forming a lasting impression.
Airline Meeting Halls: Sold


Sold: Edmonton International Airport
The Airline Meeting Halls are the focal point of every Routes event. Sponsorship of the halls guarantees visibility for your brand, with almost every route development discussion taking place within these locations.
With exclusive branding rights, this package is the perfect way to ensure your organisation is at the forefront of route development conversations.

Contact the team
Networking Lunches
Lunches form a key part of the day at World Routes, with almost all delegates visiting a buffet point. Sponsorship of a lunch presents you with the opportunity to ensure delegates are surrounded by your branding, combined with the unique element of addressing the delegation during a short speech and use of promotional videos.
Registration: Sold


Sold: Prague Airport

One of the more prominent sponsorship items, the Registration package promises high visibility during the course of the event. Delegates will not only be required to wear your brand throughout the event with lanyards of your own design, but the Registration Desk is also the first stop for all delegates, with the option of striking visual graphics available.
Online Meeting System: Sold



Sold: Copenhagen Airports C/S (CPH)

Face-to-face meetings are the core element of every Routes event. Sponsorship of the Meeting System gives your brand unrivalled exposure, from the pre-event scheduling requests to the onsite Electronic Extra Meeting System. Every delegate will see your brand every time they check their diary or manage their meetings, and with the system now digital and mobile responsive your brand will be in their pocket at all times.
Strategy Summit: Sold


Sold: Oman Airports Management Company

The World Routes Strategy Summit gathers leading aviation professionals to participate in engaging and interactive panel discussions. Held across two days, sponsorship places your brand in front of senior decision makers and an influential audience, providing an ideal opportunity to present your organisation at the forefront of these discussions.
Delegate Bags: Sold



Sold: Chongqing Airport Group

Routes delegate bags are seen throughout the duration of the event. Used to carry all materials, laptops, papers and information received, sponsorship of the delegate bags have a high retention value in that they are re-used, meaning your brand is visible beyond the event.
Internet Stations: Sold


Sold: Istanbul Sabiha Gökçen International Airport

Internet stations provide an ideal solution for those looking for reliable internet access and a power source. Sponsorship provides 2 locations within the venue with large branding opportunities, presenting your organisation with an ideal opportunity to be represented in front of the world's aviation community.
Diary Advice Desk: Sold

Sold: Lucky Air

The Diary Advice Desk is one of the functional focal points of World Routes, as every attendee requires a copy of their diary alongside information and advice throughout the duration of the event. Enjoy a high profile sponsorship package which is guaranteed to be seen by the majority of attendees alongside additional benefits such as floor stickers and a hanging banner.
Water Bottles and Stations: Sold
Sold: Korea Airports Company
Our water bottles present you with an opportunity to brand a high quality, eco-friendly product, with dedicated recycling and refill stations placed accross the venue. Choose your own design and brand an item which is responsibly sourced in order to cut our carbon footprint and reduce waste.
Laptop Sleeves
Present delegates with a unique and lasting gift with customisable laptop sleeves. Ideal in creating a lasting impression, laptop sleeves offer a practical solution to all our delegates required to carry their laptops across the world.
Wi-Fi: Sold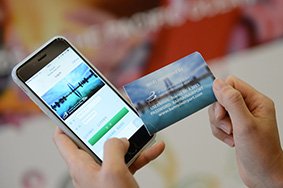 Sold: Venice Marco Polo Airport

A modern day event essential, used by almost every attendee, sponsorship of the Wi-Fi ensures your brand is noticed and interacted with multiple times a day on many different devices. Sponsorship allows you to choose the login credentials and redirect users onto a page of your choice.

Contact the team
Branded SOS Kits
SOS Kits are distributed to all delegates, containing event necessities to help attendees get through the day! From lip balm to hand sanitiser and other toiletry essentials, the SOS kit is a great physical sponsorship item that can be taken away and reused.

Contact the team
Photo Booths: Sold
Sold: San José Mineta International Airport

A new, interactive sponsorship item, photo booths offer a unique and fun way to promote your organisation. With customisable photo templates, and a wide variety of branding opportunities, this sponsorship item offers high visibility alongside an interactive element that allows delegates to take away a piece of your brand.

Contact the team
Information Desk: Sold
Sold: Department of Tourism, Phillippines

Information Desks are located throughout the venue, providing a great contact point for attendees to ask for event details, get directions or discover the answers to any queries. Sponsorship provides you with the opportunity to brand up to 3 desks, alongside promotional items of your choice to be handed out by our friendly staff.

Contact the team
Cloakroom
Cloakrooms provide a functional sponsorship package, often located in a highly visible area for ease of use. Many delegates often bring large bags and items with them that they do not require for the duration of the day – the cloakroom provides an excellent branding opportunity to greet those delegates and provide assistance.

Contact the team
Massage Station
Ensure delegates can relax and unwind in an environment branded by your company. With 3 massage stations available throughout the venue, this package offers a constant presence that can be used time and again by attendees. There are multiple branding opportunities to benefit from.

Contact the team
Hotel Room Drop: Sold
Sold: Amsterdam Airport Schiphol

Leave the world's airlines a gift of your choice, right in delegates' rooms. This package offers your organisation a guaranteed opportunity to place your brand exclusively in front of the world's airlines and offer them a flavour of your airport or destination.

Contact the team
Hanging Banners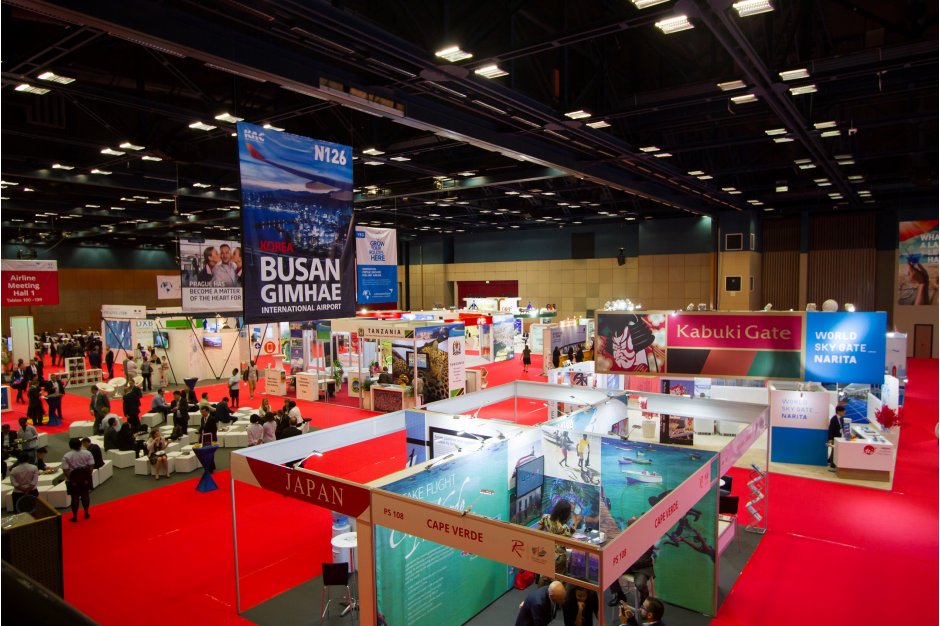 Hanging banners are located throughout the venue and provide an excellent, affordable and high visibility item. Inform delegates as to the location of your stand, or simply get your brand out there with your own designs. There are a variety of locations to choose from, simply speak to our team for a location suited to your requirements.

Contact the team
Delegate Bag Insert: limited availability
Delegate bag inserts allow your organisation to provide a simple handout to all registered delegates, invite them to your stand, provide information on your activities or include some important route development information for them to takeaway.

Contact the team
LCD Display Advertising: Sold

Sold: Avinor

An advertisement placed on our large LCD display presents you with an opportunity to create your own eye-catching advert in direct view of the global route development community. Located in key areas the LCD screen presents you with creative ownership of your advert in front of aviation's key decision makers.
Downloads