Networking Events
Saturday Reception
Sponsored by Brand USA
Date: Saturday, 31 January, 2015
Time: 18:30 - 20:00
Location: South Convention Lobby, Sheraton Denver Downtown Hotel
Dress code: Smart Casual
---
Welcome Reception
Hosted by Denver International Airport and Visit Denver
Date: Sunday 1 February, 2015
Time: 16:30 - 22:00
Location: Sports Authority Field at Mile High
Dress Code: Casual - wear your favorite team's shirt!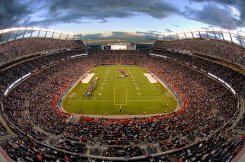 Sunday, 1st of February is Super Bowl Sunday! To celebrate, Denver International Airport will host an American football themed Welcome Reception at Sports Authority Field at Mile High, the home of the Denver Broncos.
This iconic venue has been recognised as the 'soul' of the city for almost four decades. Set against such an iconic background, the Welcome Reception promises to be a night to remember.
Delegates will be able to stay in the field, take pictures and watch the giant screens with Routes Americas branding. They will also be greeted by "Miles" the mascot of the Broncos.
There will be a big screen for all football fans to watch the game with an adjoing bar. A quieter networking area with a brewery, snack and dinner food stations, a bar and games (air hockey, foosball, etc.) will also be available.
Ladies are please advised not walk on the playing field in heels as this may damage the sports field playing area.
Image courtesy of "Visit Denver".
---
Networking Evening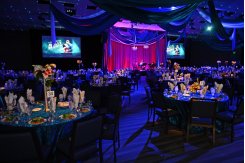 Hosted by Denver International Airport and Visit Denver

On Monday, 2nd of February, Denver International Airport will host the Networking Evening at the Seawell Ballroom of the Denver Center for the Performing Arts, Denver's own "Broadway".
Welcomed by a harpist, a glass of champagne and the exotic beverages of The Inventing Room, delegates will be welcomed to a unique night full of pleasant surprises.
---
A note regarding alcohol intake
It is recommended that you monitor your alcohol in the mountains and in Denver. Altitude increases alcohol's effects, so refresh yourself with a glass of water between drinks and watch your total intake.