About Bilbao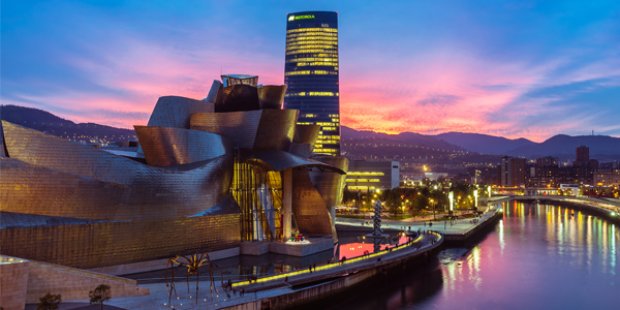 Bilbao is situated in the northern-central part of Spain, on the Basque threshold, the range between the Cantabrian Mountains and the Pyrenees. The largest city in the province of Biscay, it is the beating heart of the Basque Country. Bilbao is divided into eight district areas, and the green hills surrounding the city are a relief to the hustle and bustle of the busy city.
Given its proximity to the sea, the climate is mild, perfect weather for exploring the beautiful walkways and bridges along the river. Here you will find the unmistakable Guggenheim Museum, a must see, both inside and out! Frank Gehry's spectacular twisting titanium-clad modern art museum is evocative of the ships that used to be along the docks of Bilbao.
Bilbao, is a captivating contradiction of the old and new. Delve into the old corner and get lost in the "las 7 calles" (the seven streets) of the original medieval town, here you can explore the beautiful frontages of buildings such as the Bidebarrieta Municipal Library. The unique columns that hold up the Alhóndiga are a perfect example of the new modern face of Bilbao. Along with the Zubizuri Bridge a beautiful and interesting structure that curves over the river.
Bilbao is sophisticated and humming with action, a gateway to the Basque culture. It is a city that is an example of a dramatic urban transformation and has so much charm to offer to all of its visitors.