World Routes Meetings
As the 20th World Routes approaches the information below will enable you to optimise your time at the event and make the most of the extensive meeting opportunities that World Routes presents.
There are countless opportunities to meet at World Routes, whether through pre-scheduled Face-to-Face Meetings, by using our on-site extra meetings system or the many informal opportunities that our hospitality events present. In order to make the most of your time in Chicago follow these simple steps: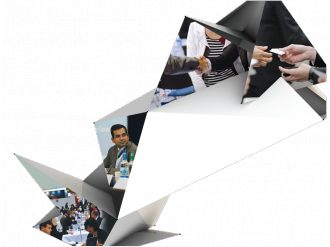 Be sure of the Meeting Objective; it may be to convince an airline of the market opportunity, or to meet the airlines expectations on a support package.
Be Prepared: Ensure that you have prepared for your meetings, providing a short presentation or report on the market or the issues with the carrier.
Market Knowledge: Make sure you have done your research on the airline route opportunity, route feasibility, market study, catchment study or a survey of passenger demand. Use data wherever possible.
Route Support: Be prepared to discuss commercial terms and route support, albeit in the form of airport charges, marketing support or something more creative.
Stakeholders: Bring your stakeholders to the meeting; it may be people from your Tourism Authority or Economic Development Agency.
Two Way Conversations: Don't be afraid to ask the airline questions. A two way conversation will also help to build the relationship.
Material: Don't leave too much material, offer to send through your presentation afterwards, or through routesonline.com. Be creative with your material.
Conclude: End the meeting with clear actions and follow-up after your meeting.
Formal Meetings- The twenty minute meetings form the core of World Routes and are either pre-arranged or are made at the event itself using the Extra Meetings System. Airports and airlines will receive a Final Diary outlining the times and locations of these meetings. This Final Diary can be accessed via the World Routes Smartphone App and should be collected from the Diary Advice Desk, which is located in the Networking Village, on Sunday 21st September. Formal meetings take place in the Meeting Halls, Meeting Chalets or Hosted Networking Stands on the Sunday, Monday and Tuesday of the event.
Airlines- The airlines will undertake their meetings at either their table, found in the Meeting Halls or in their Airline Meeting Chalet. Airports Delegates participating in the formal discussions have 20 minutes per slot or if exhibiting are entitled to 50 minute meetings.
Suppliers- Although suppliers are not entitled to pre-arranged meetings, once at the event itself, they can still use the Extra Meetings System. A blank diary can be issued to suppliers to record the times of these meetings. They can be obtained from the Diary Advice Desk.
City Pair Meetings- Airports can also request meetings with up to 5 other airports free of charge and can be requested via the Meeting Request System. These Market-to-Market meetings can allow the two airports to identify new opportunities, share ideas and approaches, exchange data and contacts and jointly plan "city pair" strategies and presentations.
Interline Meetings- This will allow interline, codeshare and alliance managers to meet with other carriers to discuss interline agreements and SPA's; current and prospective codeshare agreements.