The 20th World Route Development Forum
Chicago, Illinois, USA
• 20 - 23 September 2014
20 Years of Routes
World Routes celebrates its 20th anniversary this year. From its very first event in Cannes in 1995, to this year's World Routes in Chicago the event has grown into the route development industry's most important annual event. Here we take a look at our previous hosts and destinations.
Cannes, 1995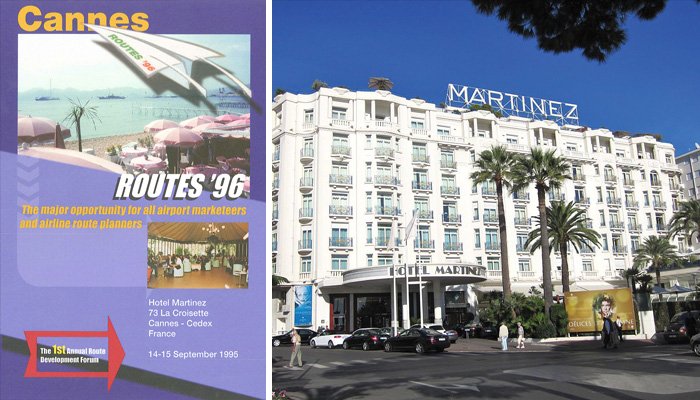 Cannes, France
14 - 15 September 1995
A mere 60 delegates attended this, the first event ever to bring airlines and airports together to discuss new routes. They left with one question "why has no one done this before?". The beautiful setting of the Hotel Martinez, Cannes also helped!
Abu Dhabi, 1996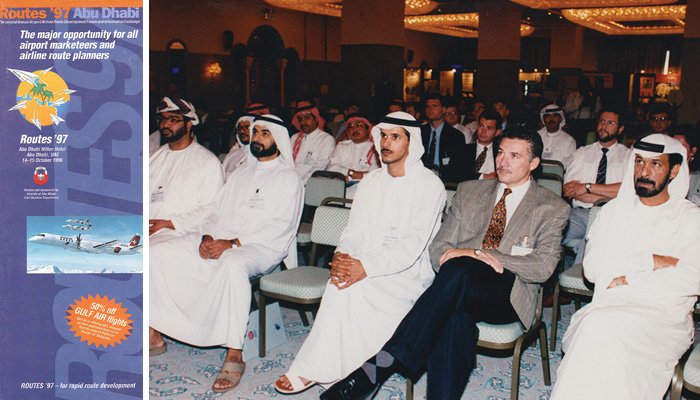 Abu Dhabi, United Arab Emirates
14 - 15 October 1996
This event established a level of professionalism and hospitality by which subsequent events would be judged and attracted 50 airlines worldwide. Who could forget the Gala Dinner on the beach by the waters of the Arabian Gulf?
Hosted by Abu Dhabi Airports
Oslo, 1997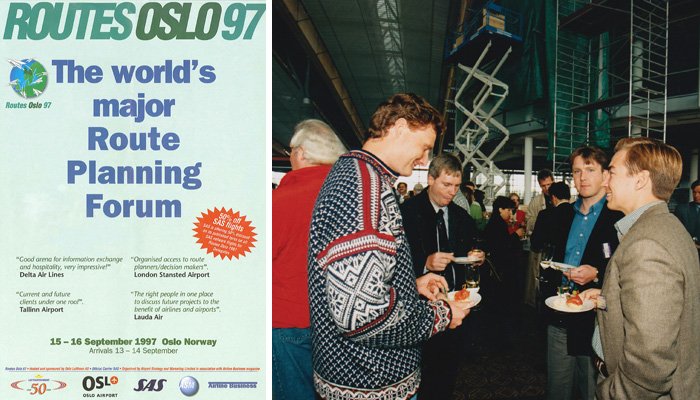 Oslo, Norway
15 - 16 November 1997
Routes really took off this year with delegate numbers reaching 250. Delegates were also treated to a preview of the magnificent new airport at Gardermoen. A really memorable event.
Hosted by Avinor Oslo Airport
London, 1998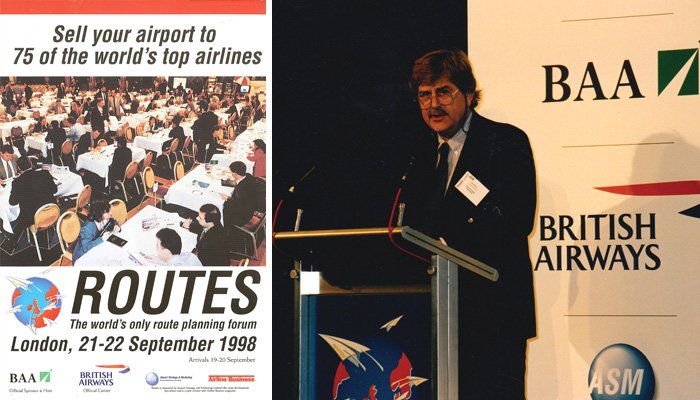 London, England
21 - 22 September 1998
The world's largest airport operator, BAA, hosted Routes this year, partly to help re-launch London's third airport at Stansted. Delegate numbers went through the roof and, subsequently, so did the passenger numbers at Stansted.
Hosted by London Stansted Airport
Rome, 1999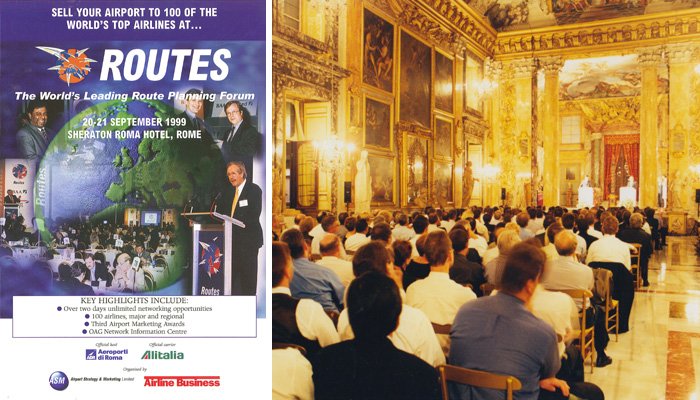 Rome, Italy
20 - 21 September 1999
This year we went back to the Mediterranean and there is a no more stunning venue than the Eternal City. The fabulous Gala Dinner was in the grounds of the Palazzo Colonna. It was a hot, humid evening with dramatic bolts of lightning illuminating the night sky!
Hosted by Aeroporti di Roma
Amsterdam, 2000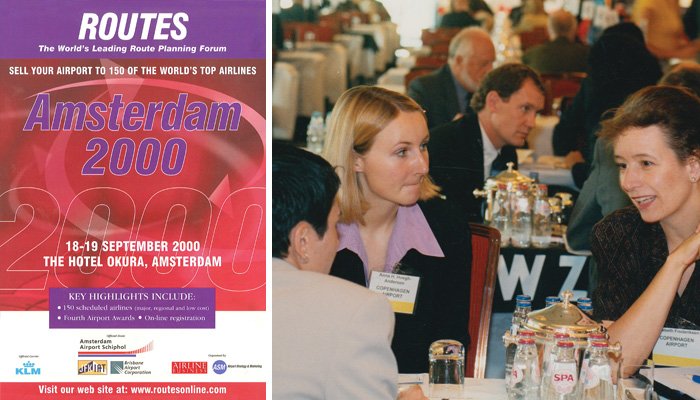 Amsterdam, Netherlands
18 - 19 September 2000
120 airlines attended the Millennium event. It was hosted by the three global airports of the Schiphol Group and at the time it was the biggest and best Routes event to date. Routes had truly become the choice of airlines and airports worldwide.
Hosted by Amsterdam Airport Schiphol
Dublin, 2001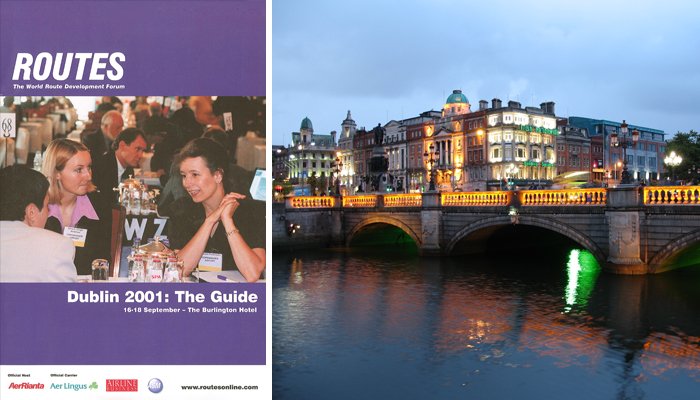 Dublin, Ireland
16 - 18 September 2001
The event is Dublin was held within a week of a very difficult time for aviation, in September 2001, and was hugely challenging for both our hosts and for the Routes team. The right decision was finally taken and Dublin hosted the event as planned with over 700 delegates attending.
Hosted by Dublin Airport
Athens, 2002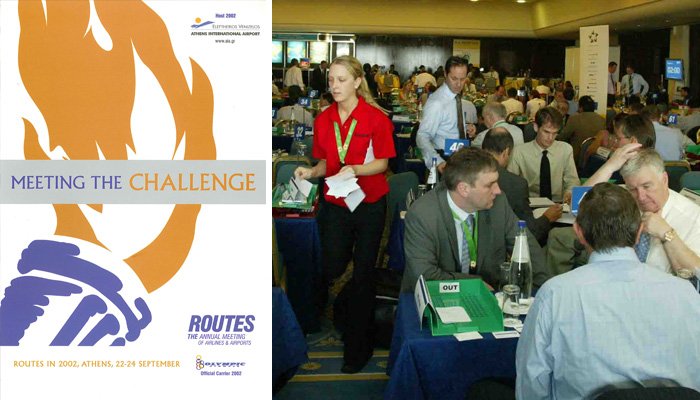 Athens, Greece
22 - 24 September 2002
Delegates were treated to an event that took place in a resort on the peninsular of Athens and meeting delegates enjoyed a sea view for their meetings and lunches at the event. A freak rainstorm during the Gala Dinner was saved by our forward thinking hosts who had ordered enough umbrellas for all delegates to use.
Hosted by Athens International Airport S.A. - Eleftherios Venizelos
Edinburgh, 2003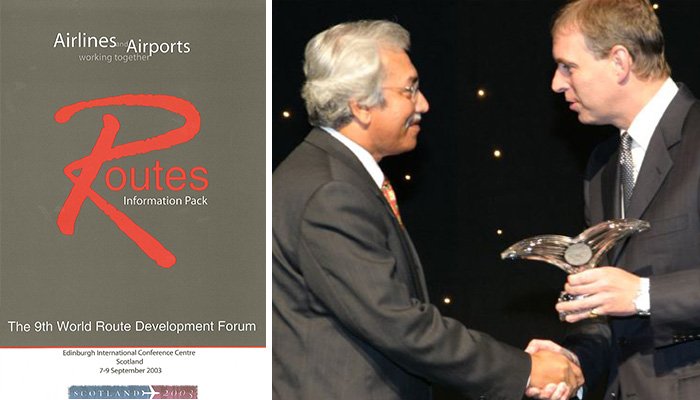 Edinburgh, Scotland
7 - 9 September 2003
Held in the beautiful city of Edinburgh and hosted by BAA Scotland delegates at this event were treated to a Gala Dinner in Holyrood Palace and hosted by HRH Prince Andrew who presented the Airport Marketing Awards on our behalf.
Hosted by Edinburgh Airport
Madrid, 2004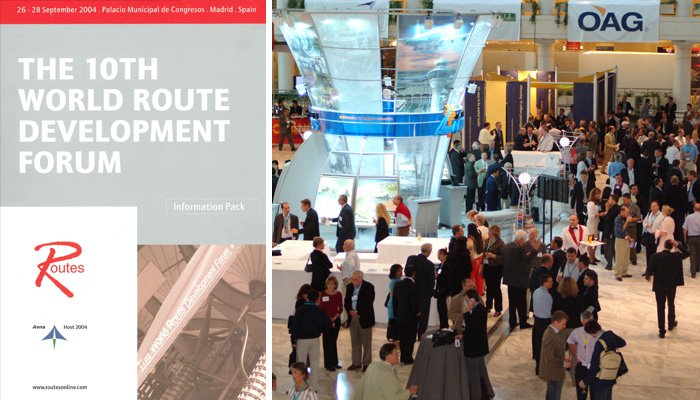 Madrid, Spain
26 - 28 September 2004
Hosted by Spanish airport operator, AENA and held in Madrid, the 2004 event was the 10 year anniversary of the World Routes event and was the first year that the event had 'High Impact Stands' which were the larger exhibitions that we know as Hosted Networking Stands at our events today.
Hosted by AENA
Copenhagen, 2005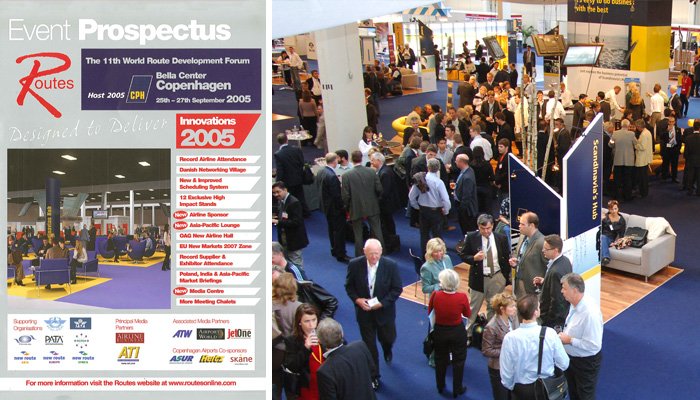 Copenhagen, Denmark
25 - 27 September 2005
Hosted by Copenhagen Airports the event attracted a huge number of delegates from all over the world. The concept of the Networking Village was created and the area included many large exhibition stands and refreshment points for delegates to continue their networking in a relaxed and informal environment.
Hosted by Copenhagen Airports A/S (CPH)
Dubai, 2006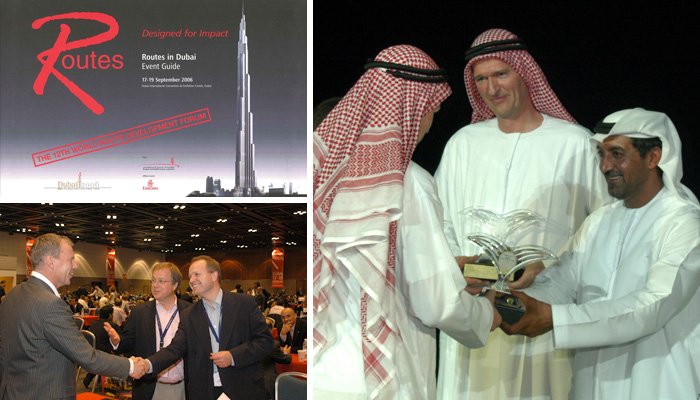 Dubai, United Arab Emirates
17 - 19 September 2006
Over 2,000 delegates attended this event which took place at the Dubai International Convention and Exhibition Centre. HE Sheikh Ahmed bin Saeed Al Maktoum, President of the Department of Aviation and Chairman of the Emirates Group officially opened this record event.
Hosted by Al Maktoum International At Dubai World Central
Stockholm, 2007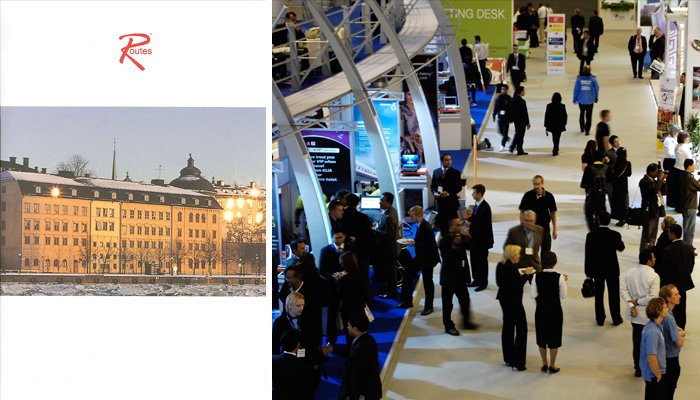 Stockholm, Sweden
23 - 25 September 2007
We returned to Scandinavia in 2007 and the event saw the addition of the Routes Leaders Forum introducing conference content to World Routes. The event also provided even more opportunities for delegate networking with the addition of the relaxed and informal lunches served in the Networking Village.
Hosted by Swedavia - Stockholm Arlanda
Kuala Lumpur, 2008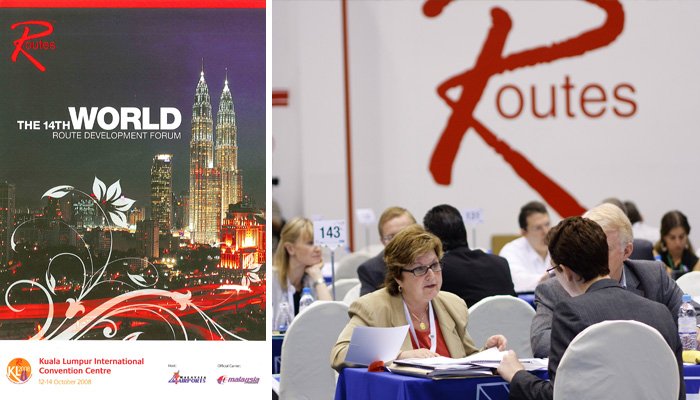 Kuala Lumpur, Malaysia
12 - 14 September 2008
The 14th World Route Development Forum was the first World Routes to take place in the Asia Pacific region. Hosts, Malaysia Airports Holdings had already hosted three Routes Asia events and were the first ever host of a Routes regional event.
Beijing, 2009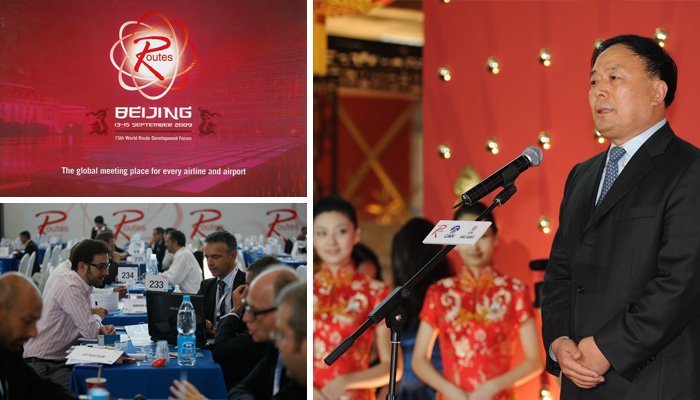 Beijing, China
13 - 15 September 2009
This year's event saw Routes take place in China for the first time when we travelled to the capital city of Beijing. Routes is one of the very few events that have been allowed to hold its Gala Dinner in the Great Hall of the People on the edge of Tiananmen Square.
Hosted by Beijing Capital International Airport Co. Ltd.
Vancouver, 2010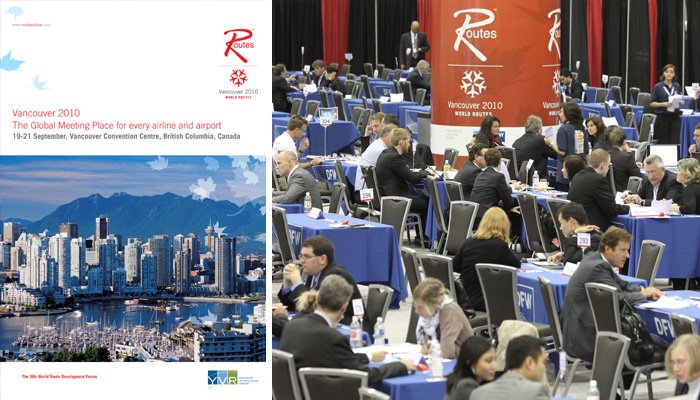 Vancouver, Canada
19 - 21 September 2010
We crossed the Atalantic for the first time in 2010 when World Routes was held in Vancouver, also host of the 2010 Olympic and Paralympic Winter Games. The Olympic mascots event paid us a visit in Beijing ahead of this event.
Hosted by Vancouver International Airport
Berlin, 2011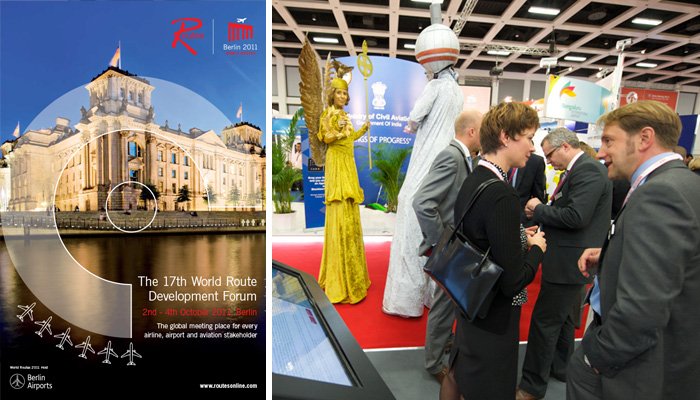 Berlin, Germany
2 - 4 October 2011
Over 2,600 delegates attended the event this year which was held at the Messe Berlin. More meeting opportuntities were provided with the addition of strategic meetings on Hosted Networking Stands and the Networking Evening was held at the construction site of the new Berlin Brandenburg Airport.
Hosted by Berlin Brandenburg Airport
Abu Dhabi, 2012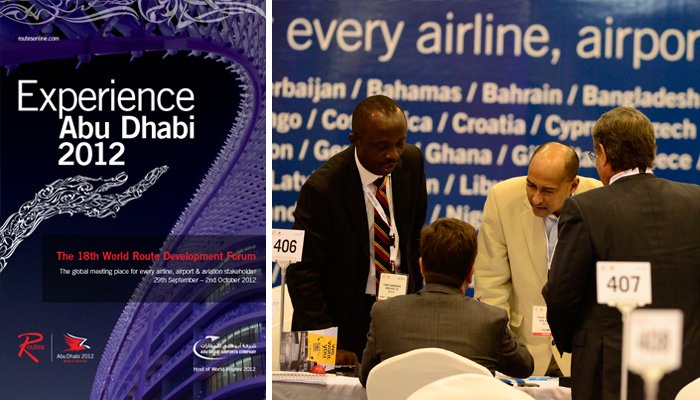 Abu Dhabi, United Arab Emirates
29 September - 2 October 2012
This year we returned to a previous Host destination for the first time. In contrast to 1996 the 2012 event saw representation from 240 airlines and attracted 3,000 delegates. The Networking Evening took place on the Helipad of the Yas Marina F1 Circuit.
Hosted by Abu Dhabi Airports
Las Vegas, 2013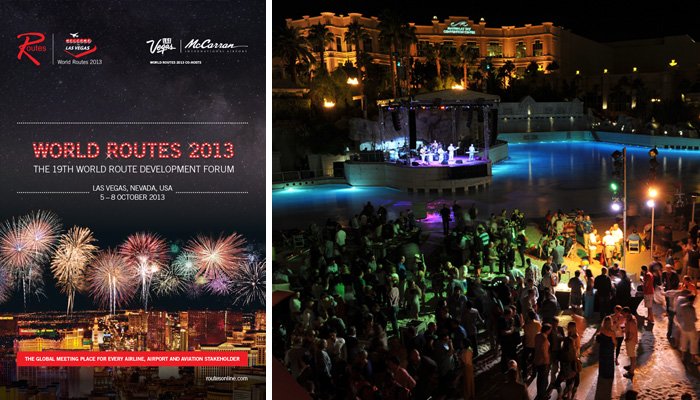 Las Vegas, USA
5 - 8 October 2013
World Routes took place in the US for the first time in 2013 when the event headed to Las Vegas! there were a number of spectacular events laid on for attendees such as the Beach Party themed Welcome Reception which included our very own 'splash mob' and the glamorous Network Evening hosted by Caesars Entertainment at the Garden of the Gods in the unique Caesars Palace Hotel.
Hosted by Las Vegas McCarran International Airport and Las Vegas Convention and Visitors Authority
Chicago, 2014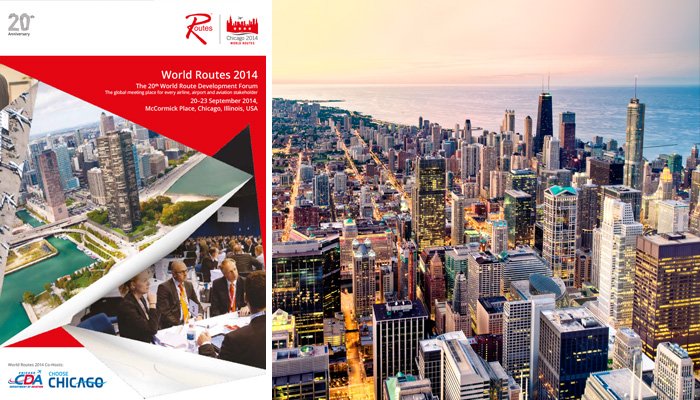 Chicago, USA
20 - 23 September 2014
We will return to the US for second year in a row for the 20th anniversary of the World Route Development Forum. With the most diverse economy in the United States, and home to several of the aviation industry's leading companies, Chicago makes the perfect home for World Routes 2014.
Hosted by Chicago Department of Aviation
We recently asked some of our regular attendees and staff for their memories of previous World Routes events as we approach our 20th edition, view our 'My World Routes' Q&A to read some of the responses we received.
My World Routes

Simon R. Miller
Senior Manager Aviation Marketing, Berlin Brandenburg Airport
"People and contacts change, new airlines and potential markets come up. This industry is changing so fast, you need to come back every year to keep up with the changes and make sure you always have the right contacts and develop relationships with them."
20 Years in Photos