Official Carriers
Copa Airlines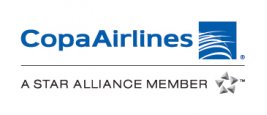 As the Official Carrier for Routes Americas 2016, Copa Airlines are offering a 20% discount to all Routes Americas delegates on flights made between 2 February 2016 – 25 February 2016.
In order to take advantage of this discount, please make your booking through an official Copa Airlines office, details of which can be found here. You will need to quote discount code D6651 when you make your booking.
About Copa Holdings, S.A.
Copa Airlines and Copa Airlines Colombia, subsidiaries of Copa Holdings, are leading airlines in Latin America for passengers and cargo. The airlines currently offer service to 74 destinations in 31 countries in North, South and Central America and the Caribbean.
Throughout more than 65 years of uninterrupted operations, they have managed to turn the Hub of the Americas, located in Panama, in the leading center of connections across the continent. They have one of the youngest and most modern fleets in the industry, consisting of 98 aircrafts: 72 Boeing 737 Next-Generation and 26 Embraer-190, and a punctuality of 91%, one of the best indicators of the industry.
In 2014, Copa was awarded the prize of "Leading Airline for Mexico and Central America" by the World Travel Awards and was named the "most punctual airline in Latin America" by Flight Stats. Copa Airlines is also part of the leading global airline network, Star Alliance, providing its passengers with the possibility of reaching 1,330 destinations in 192 countries and enjoying more than 18,500 daily flights and 1,000 VIP lounges.
---
Delta Air Lines

As an Official Carrier for Routes Americas 2016, Delta Air Lines are also offering up to 20% discount on flights to all Routes Americas delegates flying to San Juan. Reservations and ticketing are available via their website. Please select 'Book Your Flight' and this will bring you to the correct page where you can enter the discount code NMMQM in the box provided.
Reservations may also be made by calling our Delta Meeting reservations at 800-328- 1111 Mon-Fri 7am-7pm CDT.
*Please note that there is a direct ticketing fee for booking through the reservation number above.
About Delta Air Lines
Delta was named to FORTUNE magazine's top 50 World's Most Admired Companies in addition to being named the most admired airline for the fourth time in five years. Additionally, Delta has ranked No.1 in the Business Travel News Annual Airline survey for four consecutive years, a first for any airline. With an industry-leading global network, Delta and the Delta Connection carriers offer service to 327 destinations in 57 countries on six continents. Including its worldwide alliance partners, Delta offers customers more than 15,000 daily flights.