Complimentary Tours
The hosts for World Routes 2017 are pleased to offer a range of complimentary tours to help delegates to explore the city.

Modernisme Walking Tour
Date: Saturday, 23 September
Places still available: 1pm
Fully booked: 9am, 11am and 3pm
THERE IS NO AVAILABILITY ON THIS TOUR
If you want to know about the most important artistic movement of the late 19th and early 20th centuries, this guided tour is the perfect introduction to the greatness of Catalonia's home-grown art nouveau, Modernisme, which will reveal how it originated and tell you about its key figures.
Modernisme is inextricably linked to the modern history of Barcelona. This enthralling guided tour will give you an intimate glimpse of the works by such renowned architects as Gaudí, Domènech i Montaner and Puig i Cadafalch through the eyes of an expert.
You'll find out a whole host of details about the history of modernisme as you wander through the magnificent "Quadrat d'Or" heritage district which is a true architectural showcase. From here, you'll be able to admire the majestic Casa Batlló, the amazing Pedrera and other modernista architectural gems, including the Casa Amatller and the Casa Lleó Morera. You'll also visit the beautiful Museu del Modernisme de Barcelona, which will help you better understand the age of splendour of this artistic trend in Catalonia through an illustrative exhibit.
---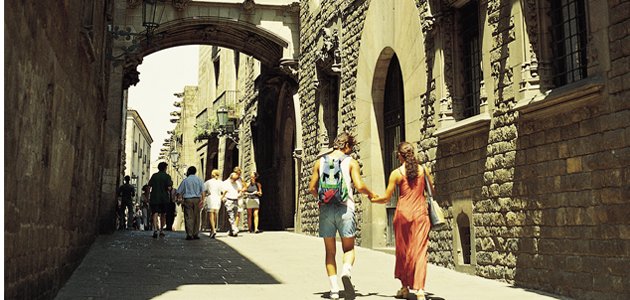 Gothic Walking Tour
Date: Wednesday, 27 September
Places still available: 1pm and 3pm
Fully booked: 9am and 11am
THERE IS NO AVAILABILITY ON THIS TOUR
If you want to find out about the historic events in the oldest part of Barcelona, don't miss this walking tour which will reveal the most splendid period of the Catalan capital and its culture which can still be seen today. Every step of the tour is full of history, charm and magic.
This guided tour will explain the history of Barcelona from Roman times to the medieval period while you walk through the Gothic Quarter, which has a charm all of its own with its narrow, cobbled streets, wrought-iron street lamps and buildings that comprise hidden corners you can lose yourself in.
The walk begins in the plaça Sant Jaume, the seat of the local government during the Middle Ages and at the present time. Next, you'll explore the narrow streets leading to the Barcelona Cathedral, built in different artistic styles, next to the important surviving sections of the Roman walls. To end the tour, close to the Cathedral, the plaça del Rei, a unique site and the historic centre of power during the reign of the Catalan counts and monarchs. Beneath the square lie the remains of the Roman city of Barcino and the remains of the medieval city (Saló del Tinell, Capella de Santa Àgata or Mirador del Rei Martí), above it.